Exciting floral trends for weddings and other events have blossomed in the last few years thanks to sites like Pinterest and Instagram. Our editors have chosen eleven of their favorite new funeral floral designs that would make a gorgeous backdrop or accent for a funeral or memorial in honor of a loved one. You'll see a lot of the photo credits are to wedding websites, but that's only because that's where so much of beautiful flower artistry happens these days.
Funeral Flowers and Their Meanings
Of course we know that flower arrangements are not a part of every funeral tradition, so we respectfully offer these funeral flower ideas for those whose personal practices allow for or include a floral element for a tribute or memorial.
Inspirations for Funeral Flowers
1. Giant Floral Wreath
Funeral wreaths are a classic at services in certain traditions. But normally they are smaller in size and hang on a folding easel. An oversized memorial wreath can be a centerpiece or backdrop for the whole service, a way of gathering the visual energy of the space.
2. Asymmetrical and Ethereal Floral Wreath
Why not take the wreath idea and make funeral flowers modern with an asymmetrical arrangement of grasses and blossoms? This ethereal memorial flower circle with roses, pampas grass and orchids makes a lovely backdrop for speeches at a celebration of life. The scale of this funeral or memorial floral design creates a focal point for the remembrance event. You can add candles or other elements as well.
3. Hanging Wreath with Candles
If you'll pay tribute outside, you can hang a wreath from a tree and have those attending place candles nearby. Just be mindful of your surroundings and take caution if using real candles. LED or flameless candles may be a better choice depending upon your location. And if hanging a large wreath from a tree, take it from our experts--make sure to get help from your local florist to be certain it is secure and windproof.
4. Wild and Free Grouping
If you want to create a memorial floral arrangement that is soft and natural, consider an asymmetrical grouping of greenery and blossoms in baskets, vases or urns. The movement of these "climbing" greens adds poetry and an aspect of visual connection to funeral arrangements.
5. "Floating" Florals
Using a transparent pedestal in lucite or plexiglas adds a weightlessness and a chic modern feeling to floral arrangements for a memorial service in any setting. Adding a "high-low" element by placing one arrangement atop the pedestal and the other on the ground or floor creates dimension and visual interest in indoor and outdoor spaces.
Download a Helpful Free Funeral Planning Checklist
6. Grouped Pedestals
Funeral arrangements don't have to be huge. Using pedestals of different sizes lets you feature smaller (and more budget-friendly) floral arrangements while still making a beautiful statement. Another benefit of this type of memorial décor is you can transfer smaller flowers to a luncheon or reception that follows, donate them, or give them to loved ones as a remembrance.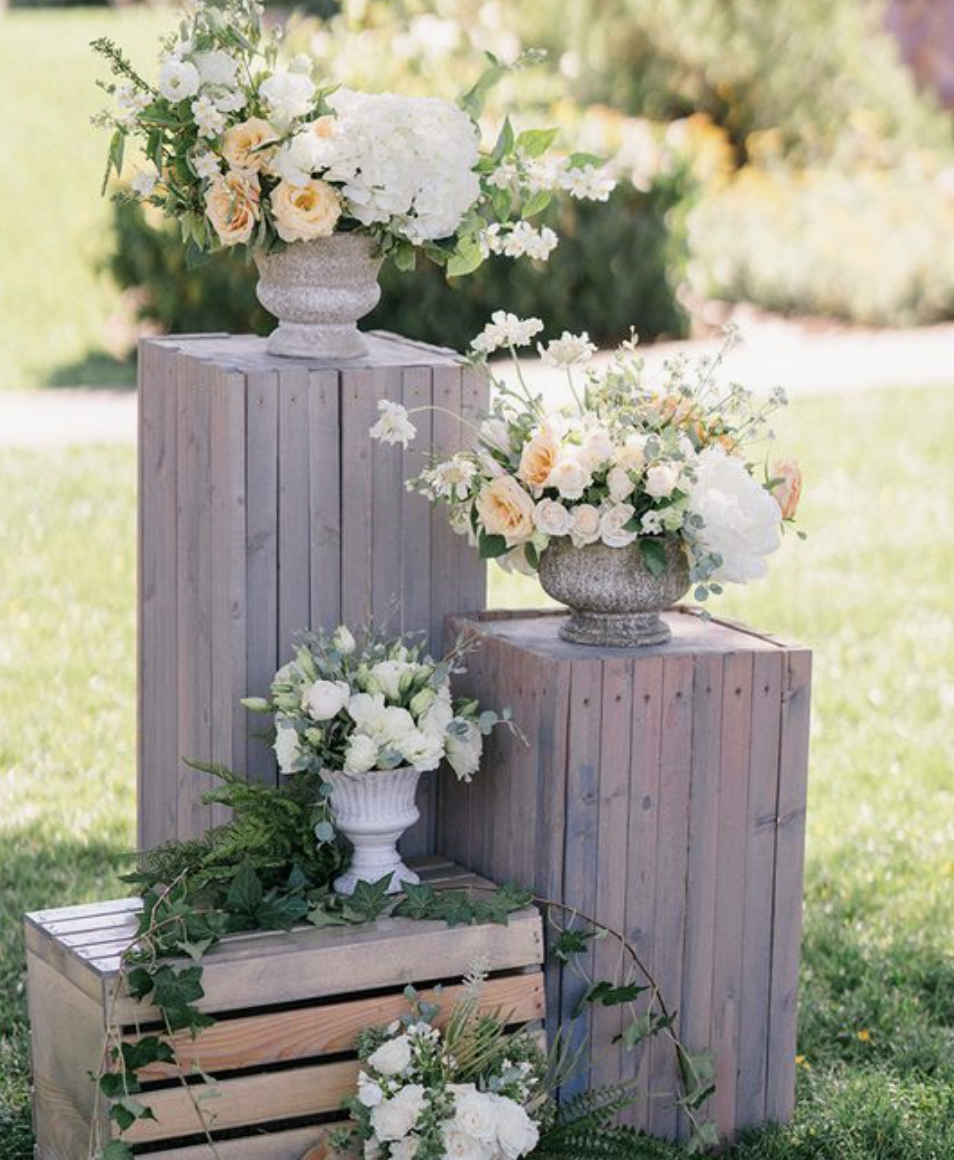 7. Open Pedestals and Modern Greenery
Open pedestals and bold but neutral arrangements combine elements of earth and sky. These are modern funeral flowers with substance and style.
Eulogy Examples: How to Write a Eulogy for a Loved One
8.Angel's Doorway
We love the idea of this rustic doorway. It makes both a beautiful visual focal point for a memorial service and a poetic symbol of transition and journey.
9. Everlasting Flowers
We are not normally fans of "artificial" blooms, but these beautiful arrangements remind us of angels. Their softness of color and texture feel just right. Plus, you can make a keepsake of them after the memorial.
How to Plan a Virtual Funeral or Memorial Service
10. Keepsake Vases
If you'll host a memorial luncheon or tribute reception, you may want to have small vases filled with flowers on tables to add a spot of brightness. What if you arranged bud vases with simple white tulips, and tied a message around the vase with twine or ribbon--a favorite quote or saying from the dear one you are honoring or a verse they treasured?
11. Ribbons in Trees
While technically this is not a "flower arrangement" it is a way to combine the majesty and beauty of an iconic tree with the breeziness and joy of ribbons. You can choose your color story to craft the mood you want, but we love all the symbolism of strong roots, the branches of the family tree, and the ribbons which can be seen as memories or shared moments of happiness. This idea also works beautifully with a pergola or gazebo.
How to Order Flowers for a Funeral or Memorial
If you've found something you like here in these inspirations for modern funeral flowers, show the pictures to your funeral provider or to your local florist. Let them know your priorities--budget, color, type of flower, mood--and they'll work with you to create something just right.