The internet is now woven deeply into our society and plays a part in almost every aspect of our lives. There are of course many benefits to connecting online, but for essential life events it can be meaningful to have a piece of paper to hold in our hands--something tangible, an artifact. One example is the emotional sense of gathering that friends, colleagues and loved ones can share through a funeral program they receive when attending a funeral or memorial service.
As you are honoring the life of a loved one, a funeral program is one more way to show you care. It's more than a piece of paper – this funeral pamphlet is a memento that many will hold on to for years to come. If family members are planning to add the program to their scrapbooks, why not make this funeral program a tribute that is as lovely and personal as possible?
What is a Funeral/Memorial Service Program?
A funeral program (sometimes called a funeral brochure, an order of service, or pamphlet) is a printed paper or card that details the events of a funeral or memorial service. The purpose of this handout is to outline the key points of the funeral, while sometimes also featuring quotes or poems that celebrate the life being honored.
This treasured printed memorial program helps friends and family know what to expect during the service. Often, families want to provide a funeral program to help attendees participate and follow along with the outlined events.
It's customary to hand out a program when attendees arrive or leave one on each seat, but don't feel obligated to print a program if it doesn't fit your preferred style of service.
How to Write a Memorable Eulogy
Funeral Program Examples
The content within a funeral program varies depending on your preferences. If you are looking for ideas, it can be helpful to review funeral program examples to brainstorm the possibilities. A sample funeral program is a simple solution to create a beautiful funeral service program without starting from scratch. Simply find an outline you love, then add the details, photos, and design layout that matches the personality of your loved one.
Sample Funeral Program 1 – Traditional Religious Service:
Here is an example of a common traditional outline used for a religious or spiritual funeral order of service. Although this example features a Christian program, a similar format can be followed in creating a funeral program for any religious tradition:
Music Prelude
Processional – The Jones Family
Scripture Reading – Chloe Jones (sister)
Prayer – Rev. Will Chambers
Congregational Hymn – The Lord is My Shepherd, page 147
Reading of Obituary – Peter Blackham (friend)
Eulogy – Robin Smith (sister)
Piano Solo – God Be with You 'Til We Meet Again – Lorraine Kingston (aunt)
Remarks – Kevin Jones (brother)
Poem Reading – Steve Jones (cousin)
Final Words – Camille Jones (sister)
Closing – Rev. Will Chambers
Final Viewing and Procession to Cemetery
Sample Funeral Program 2 – Non-Traditional Service:
Looking for an alternative to a formal funeral service? Here's an example of a non-traditional funeral program, and you can see the printed program example below:
Title: In Loving Remembrance of Grace Wilson West, Adored Sister, Mother and Wife
Location: May 14, Smithtown Community Park
Welcome/Introduction – Sherry Wilson (sister)
Reading, Peace My Heart, Rabindranath Tagore – Sophie Lennox (cousin)
The Garden Song – Jon Brady (nephew)
Life Tribute – Ron Wilson (brother)
Meditation or moment of silence
Open Mic (please limit to 2 minutes per person)
Acknowledgments and Closing Remarks – Dani Potter (friend)
Refreshments and Gathering to Follow the Service
Optional: add a quote, poem or verse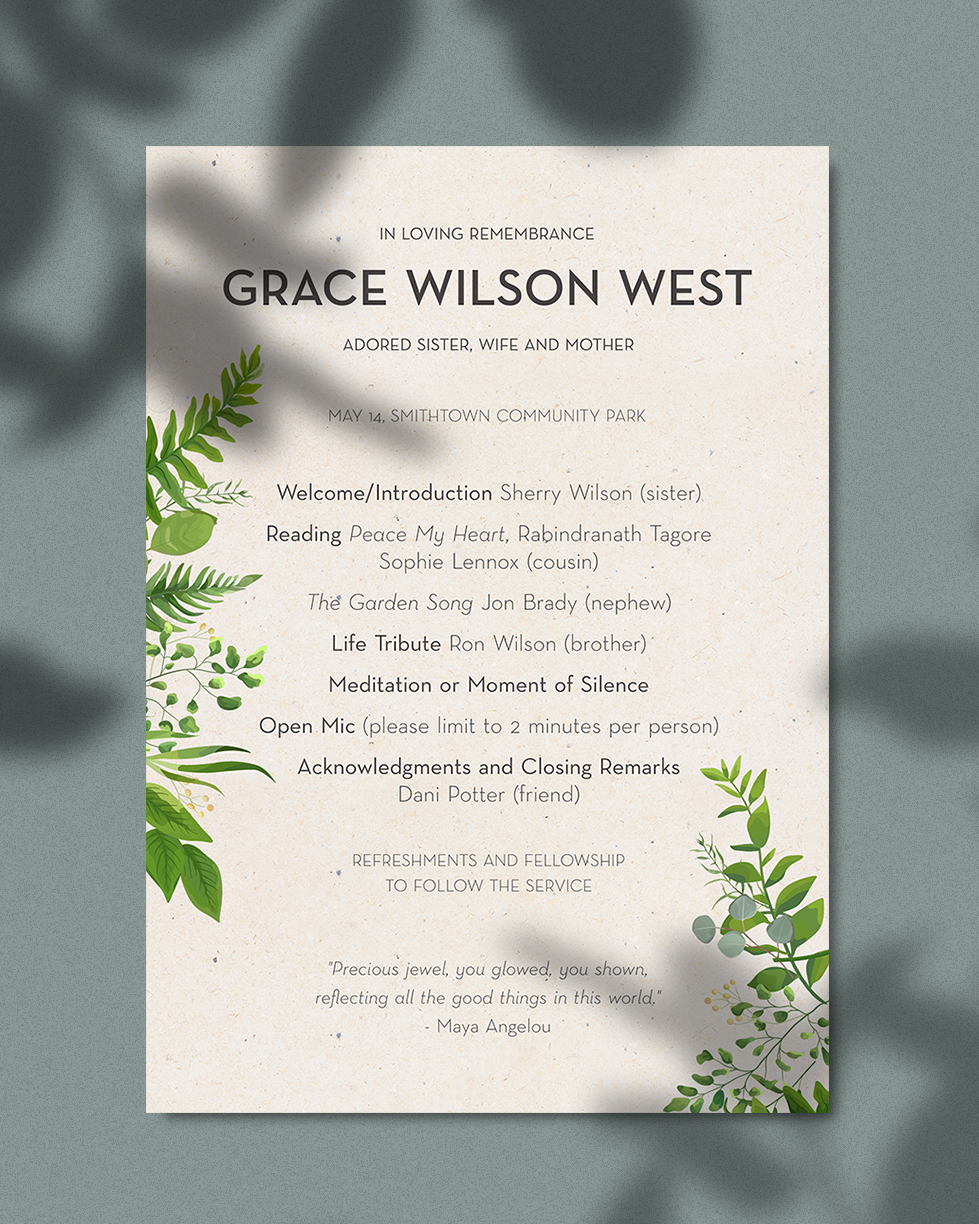 How to Make a Funeral Program
Where should you start to learn how to make a funeral program? Consider a few essential points when designing a funeral program. The goal is to share the information eloquently and succinctly. This printed program isn't a full life sketch – instead, it's a highlight reel that summarizes the person's life in a few short pages.
Some funeral programs are four pages long, while others are just one page, single- or double-sided. For example, for a four-page funeral service program, you can print the design layout front and back on a regular size (8 ½ X11) landscape page and fold it down the middle. The finished product will have a beautiful cover page, order of service inside, and additional information on the back page.
Tip: we suggest using a heavier paper stock (80 lb "text" stock) or lightweight cardstock (65 lb "cover" stock, for example) to avoid text showing through from front to back.
Cover Page: The first thing people see is the cover page, which is why the design needs to "pop" on the front. Often the cover page includes the person's name, birth/death dates, and a photo or collage of pictures from throughout their life. Sometimes the cover page shares a program title or theme, as well as an inspirational saying or quote.
Inside the Program: Turn the first page to open to the main part of the order of service for the funeral or memorial. The inside section contains an outline of the events in order, such as the eulogies, musical numbers, readings, and more. Also, consider listing the names of the people participating in the service.
Back of the Program: Finally, the backside of the printed program can include any additional details relevant to the person and event. Keep reading for more specific funeral program ideas.
Funeral Program Order of Service
The funeral program order of service is simple and straightforward: share the step-by-step proceedings for the services.
Depending on the style of the event, you can follow a traditional structure for the order of service. Or, shake things up and follow this outline like a Choose Your Own Adventure story, with only the most applicable information printed in the funeral pamphlet.
Sample 1 – Traditional Service:
Here is an example of a common traditional outline used for a funeral order of service:
Music prelude
Welcome/introduction
Opening and closing prayers (if desired)
Poem or scripture readings
Music selection – congregational hymns and musical numbers
Obituary reading
Eulogies
Acknowledgments and thank you messages
Closing
Sample 2 – Non-Traditional Service:
If you are holding an informal memorial or life celebration, then consider a few adjustments to the program:
Welcome/Introduction
Music selections
Readings
Meditation or moment of silence
Life tribute
Open mic or informal tributes
Closing
The key is to first decide on the elements of the service, then determine the order and layout within this funeral program.
Create a Beautiful Free Memorial Website as a Tribute to Your Loved One
Funeral Program Wording and Ideas
The specific wording and ideas shared in the funeral program vary depending on the style of service you are holding and the most important information you want to communicate.
There are no hard and fast rules, which means that you have a lot of flexibility to determine the applicable information. Here are a few funeral program ideas to help you get started:
Scriptures: For a religious service, you may choose to include relevant hymns and scriptures.
Poems: For a non-traditional funeral program, you may choose to list a quote or funeral service poems.
Service Information: Time, date, location, officiant, etc.
Order of Service: The list of events that will take place.
Participants: Names of the people participating in the service including speakers, musicians, and pallbearers.
Musical Selections: Hymnal page numbers or lyrics for your funeral songs.
Obituary: Consider adding a short obituary or biography of the person.
Event Details: Share locations and times for the interment (burial) and any post-funeral reception.
Do you want to do something different? Don't be shy… go for it! Don't feel limited to the information on this list. You aren't obligated to include all of these points. At the same time, you have the flexibility to add anything else you feel is important to share.
Keep in mind that the design and layout for a funeral service program and a memorial service program are largely the same. These are both events designed to celebrate the life of a loved one. If you need to design a memorial program, you can follow exactly the same steps listed above and add, edit or delete elements as you wish.
Printing the Funeral Programs
Often, your funeral director can coordinate the printing of the funeral programs. This option is a great choice because you can take one more thing off your to-do list. Or you could ask a friend or family member to help with printing and folding.
Or, if you prefer a DIY approach, then find a local printing company to help. Make sure to ask questions about the timeline so the funeral programs are ready in time for the event.
Remember the ultimate goal in creating a personalized funeral program: to honor your loved one. Consider the person's preferences, as well as family traditions and cultural influences to create a funeral program that is perfect for your event.
Personalizing Funeral Service Programs
There are lots of ways to make a funeral program more personal. Here are just a few inspirations to help you as you create a memorable program for a funeral or memorial.
Color and design. Choose a program color and/or design theme (flowers, stars, trees, etc.) that feels right and matches the spirit of the event
Tone. Use language that embodies the mood of the celebration. More or less formal, for example. If the person being honored was famous for their sense of humor, an upbeat tone or even a witty quote may be just right as an accent
Type styles. The font, or style of type, you choose for a funeral program can communicate the feeling of the event, with more formal script styles evoking a more elegant event, and simple, minimal styles creating a modern or more low-key effect.
Photos. Choose at least one photo to include in your program, either on the cover or within its pages. It can also be lovely to feature two photos to show the person in more than one part of life. This could mean work and family or youth and older age, for example.
Whatever type of funeral program you put together, the most important thing is to make it suit the memorial event or gathering you are hosting. Let your loved one inspire the design choices you make, and include names of family and community to make those participating feel included and important. Your program can be a source of comfort and a memento for years to come.