Creating a podcast to share the many faces of grief.
Loryn Wellman isn't afraid of taboo topics, so she started a podcast to explore all the elements of death and grief that people generally don't discuss out loud. We talked to her about her journey as a podcaster, and we asked her about her own experience with grief, entrepreneurial advice and yes, how looking cute in her casket is a must.
What was the story behind starting your podcast?
A podcast really wasn't my dream. It honestly was given to me by God in the middle of the night. After losing my mother to breast cancer in 2015 and then my father to bladder cancer in 2019, I knew after experiencing my own grief that I wanted to help others in their journey. Having a background in hospitality and events, I thought that I could do that by putting on community events centered around grief. But then the pandemic happened, and I put that idea to rest. God knew I still had the desire to embark on this journey and downloaded the podcast into my spirit at 3:30 in the morning.
Tell us about your own experience with grief.
I'll say my biggest experience with grief has been the loss of my parents at such a young age. I lost my mother in my late 20's and my dad in my early 30's, both important times in my life and development. But being on this journey to understand grief on a deeper level, I recognized I have experienced grief in so many different capacities whether it was losing an important friendship, breaking up with my boyfriend who was going to propose, losing my dog at an early age, and even losing jobs. Recognizing that I experienced grief in so many different ways (not just death) allowed me to actually process each moment so I can truly move forward in life.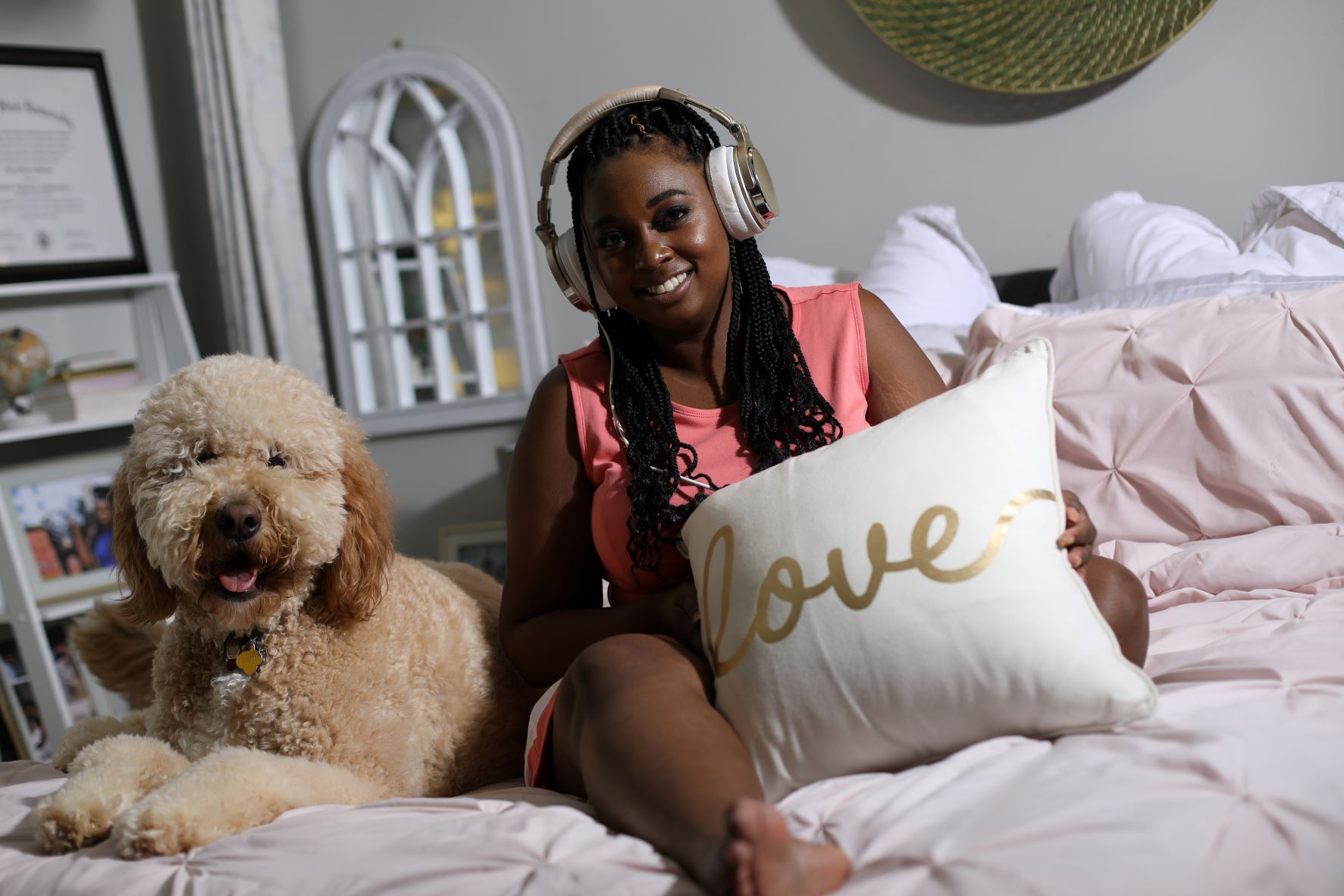 You put an emphasis on being a millennial. What do you think is the main difference between how millennials see death and grieving from other generations?
I believe as millennials we understand that we have the ability to control our narrative when it comes to death and loss. We understand that we have options when it comes to end-of-life planning. We can plan our funerals the way we want, not just a traditional sad, all black affair. We can have champagne showers, wine bars, and a DJ. Or, we can have a beautiful intimate ceremony. Or we can use our ashes to be made into a plant or tree. Whatever it is, we have the option to control it. Also, we as a generation are also more vocal about our mental health and that is why discussing our grief is so important in the conversation. We understand that by not talking about it, we are only going to intensify the feelings and pain associated with it.
What's your take on grief?
I have an analogy that I share all the time. Think of yourself in this car of life and grief is your annoying passenger. You are driving along life and grief is going to mess with your radio, flick spitballs at you, mess with your AC, and even try to grab the wheel. But as long as you don't let it take control and drive, you'll get used to its distractions and you don't have to let it veer you off your path. Grief is always going to be there. It is a lifelong journey, but you just learn to live with it and its many distractions.
What are some of the challenges you faced when you started This Too Shall Suck?
Initially having no idea what I was doing lol. I loved listening to podcasts but I had no concept of creating one. Thank goodness for my amazing producer Mike Sick who helped me with a lot of the technical aspects, and I just learned as I grew. And honestly, I am learning every day. As far as emotionally, not knowing how people will take or resonate with your story can be scary. But, I knew that as long as one person could not feel alone on their grieving journey by me sharing my own, I have done what I need to do.
How do you choose the guests for your podcast?
I wish I could say I had a system, but I don't to be honest. 98% of the guests who have been on the show I know personally, and I knew their story could impact others. If I do not know a guest and we are blessed to cross paths, I always feel like God sent them because not only do they have an amazing story, but we also always seem to click. I will say I don't let just anyone on the show because I am a little protective of my listeners and the safe space I worked so hard to create. I know how delicate you can be in a state of grieving, so I never want a guest to come on who makes anyone, including me, feel unsafe by their words.
Do you have a memorable guest/experience that you would like to share with our readers?
To be honest, all my guests are memorable. That is why they are there. They all have shared a vulnerable part of themselves that maybe they haven't had the chance or felt safe enough to share. Their stories always touch me in a way to remind myself and my listeners that we are not alone in how we feel, and that even if we don't feel like it in our own grieving journey, we are seen.
How has working daily with grief and death topics has changed your outlook on life?
I have always had a passion for people and what they are going through, but this has made me so much more compassionate for a person's journey. I always wonder now what causes a person to react in the manner they do. What is the trauma there? Did something happen recently that triggered them? Do they just want to feel seen or heard? I am way more aware of people and their emotions because that is all I wanted in my journey, and what I am learning in this process.
Do you think Covid changed the way people perceive death? If so, how?
I believe Covid made people more aware that death is very real and can happen in the blink of an eye. I feel like pre-Covid, unless death was close to you, the thought of it didn't really cross your mind. When Covid hit, it was knocking at a lot of people's doors that it hadn't before, so people were more aware of it, thinking about it, and for the first time realizing it is very real and can and will happen to them. It caused people to start having conversations about end of life that they may not have had if this pandemic did not happen. It caused them to think about their life and the impact they wanted to make and the legacy they wanted to leave.
When you're not podcasting, what do you like to do in your free time?
I love spending time with my friends and family. I recently moved to my new city, Charlotte, North Carolina, so I'm exploring. I enjoy catching up on my shows that I missed, I love a glass of wine, sitting on a patio or rooftop on a nice day, and I love just honestly sitting in gratitude being thankful for the small things--being alive, having a roof over my head, having my health, my business, my relationships, everything.
Do you have any advice for entrepreneurs considering starting their own podcast?
Do it! I know starting a podcast can be scary, and we all have doubts when we first do it. But the fulfillment you feel from getting your message out there and impacting others in a positive way by sharing your story and your knowledge is beyond worth it.
What's something about you that most people wouldn't know?
I have a lot of confidence, a lot of energy, and I typically don't meet a stranger, so people would assume I am fearless, but I actually have a huge fear of rejection. It stems from my perfectionism (which I learned I had through therapy) and it causes me sometimes to go into a shell if it does happen. It is something that therapy has helped me work through so it is not as "big" anymore, but it is definitely still there!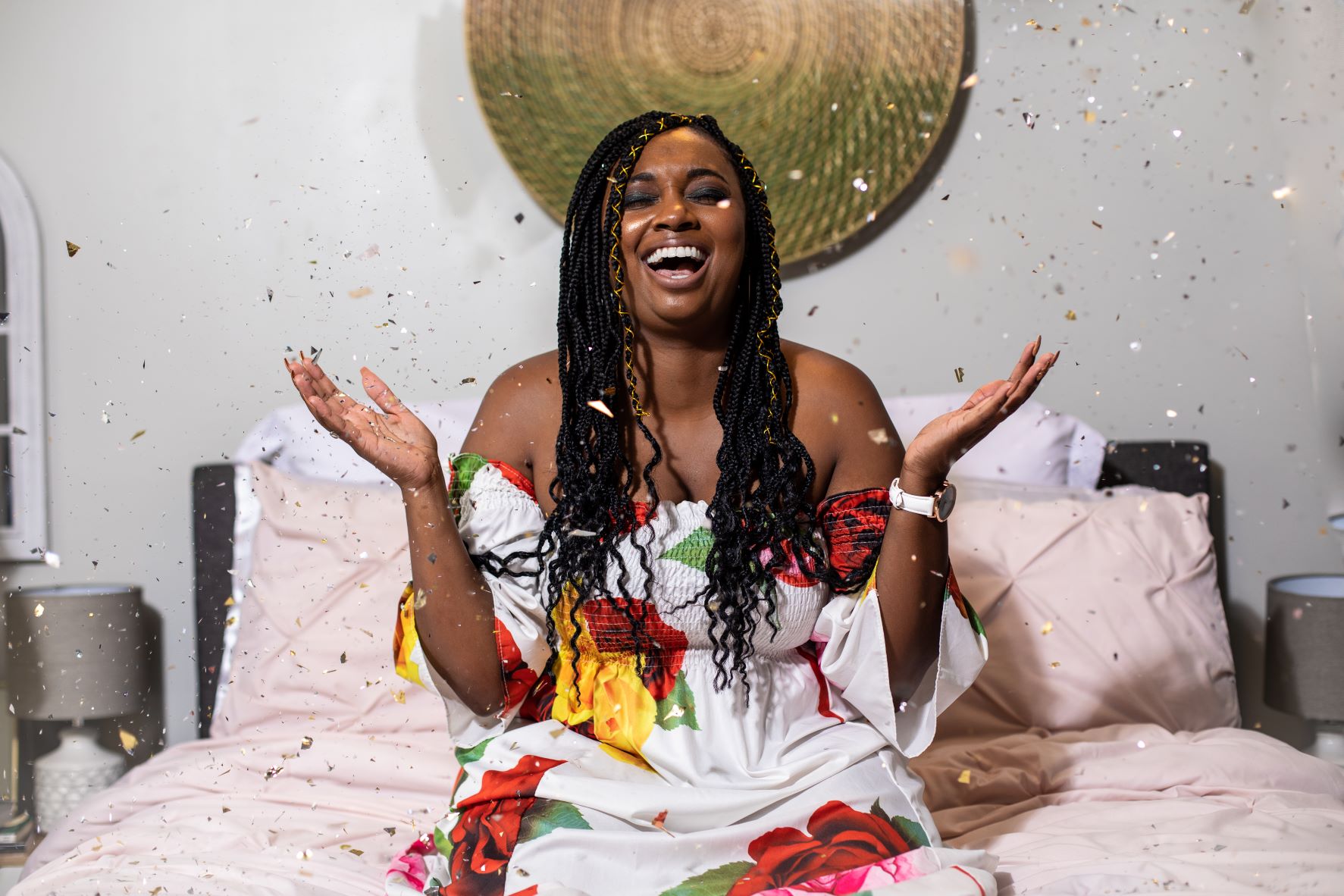 Having experienced death up close and talking about topics related to death, have you thought about your own choices? If you had to plan for yourself, what would you include in your Farewelling celebration? You know, the five things that are most important to you? We call that the "Farewelling 5."
Now having experienced it first-hand, I definitely have thought about it more and as far as my remains, if I am married, I would want to get two burial plots, one for me and one for my husband (if he survives me), in a place that is special to us.
He will know where that is. And, if the place is not in Georgia (where I am from) and people cannot make it to the service, I would definitely want him to do some type of celebration there so my friends could celebrate my life. However, if I am not married when I pass, I would want to be buried next to my parents in Marietta, GA.
If I were to plan my celebration of life:
I would definitely want to slay in my casket. I mean whoever does my look, my face needs to look good and do my hair so it doesn't look dry. I want to be cute!
At my actual service, I would want some type of video that someone put together allowing all the people who are close to me sharing what impact I made in their life because that is always my goal when I meet someone. I hope that by me being in their life in any capacity made them 1% better.
Also, for my "repast" as we call it, I don't want it to be sad, I want it to be a true celebration. Get a DJ, have wine galore, have a champagne wall, have some real good home-cooked food and make sure people are dancing.
Make sure everyone is laughing about "the one-time Loryn did" moments. I want to be remembered for the good I did.
And I would hope that someone would take the initiative to create something good in my name (like a scholarship or event) so even in the midst of me being gone, I can still impact people.
If you want to know more about Loryn you can follow her on Instagram at @loryndenise. You can listen to her podcast here.