New Year, New Bucket List! Farewelling Founder Karen Bussen travels to California to the home of Dierdre Wolownick, extreme climber and author of "The Sharp End of Life: A Mother's Story." Over strawberry cake and coffee, Dierdre tells Karen the fascinating story of how she became, at age 66, the oldest woman to climb Yosemite's monstrous El Capitan, which she did at the side of her son, the world's most famous free-solo climber (and subject of the movie "Free Solo") Alex Honnold. She talks about the challenges of marriage and kids, living without fear, and pursuing your dreams, no matter your age or stage in life.
This Woman Is Our Role Model
Dierdre Wolownick is just one of those remarkable people who decide to do something seemingly impossible (you know, learn to speak eight languages, create an actual orchestra, start running marathons at age 55, climb Yosemite's El Capitan at age 66), and then they just do it, no matter what it takes. Why she's not in a Nike ad, we're not sure.
We talk to Dierdre about the adventure that has been her life, how she raised two fearless children (one of whom, Alex Honnold, happens to climb the world's most imposing rock faces without safety gear!), and why she thinks making a will is something every parent should do right now. She shares her journey and her philosophy for living a life without limits, and inspires us to take the next step toward our dreams, no matter where we are on our own path or what challenges we face. As we begin the new year, and the new decade, we can all benefit from her brand of resilience, moxy and downright awesomeness.
A Note from Karen:
Meeting Dierdre was a thrill. She invited us into her home and made us coffee. We talked about so many things, drank more coffee, and even spoke French together. I even got a signed copy of the college-level French textbook Dierdre wrote (like we said above, this woman just gets s*** done!). Oh she also paints, so I took a few snaps of some of her work, which you can see below, along with some photos of us recording and enjoying the strawberry cake I brought as an offering. (No, I didn't bake it, but I did find this very cool Austrian patisserie in Davis, on my way to Dierdre's house.) After meeting Dierdre, I just can't think of a reason to make any excuse in life not to do everything I want to. Life is too short! And Dierdre even rearranged her travel schedule to join us for the Farewelling Launch Party in New York!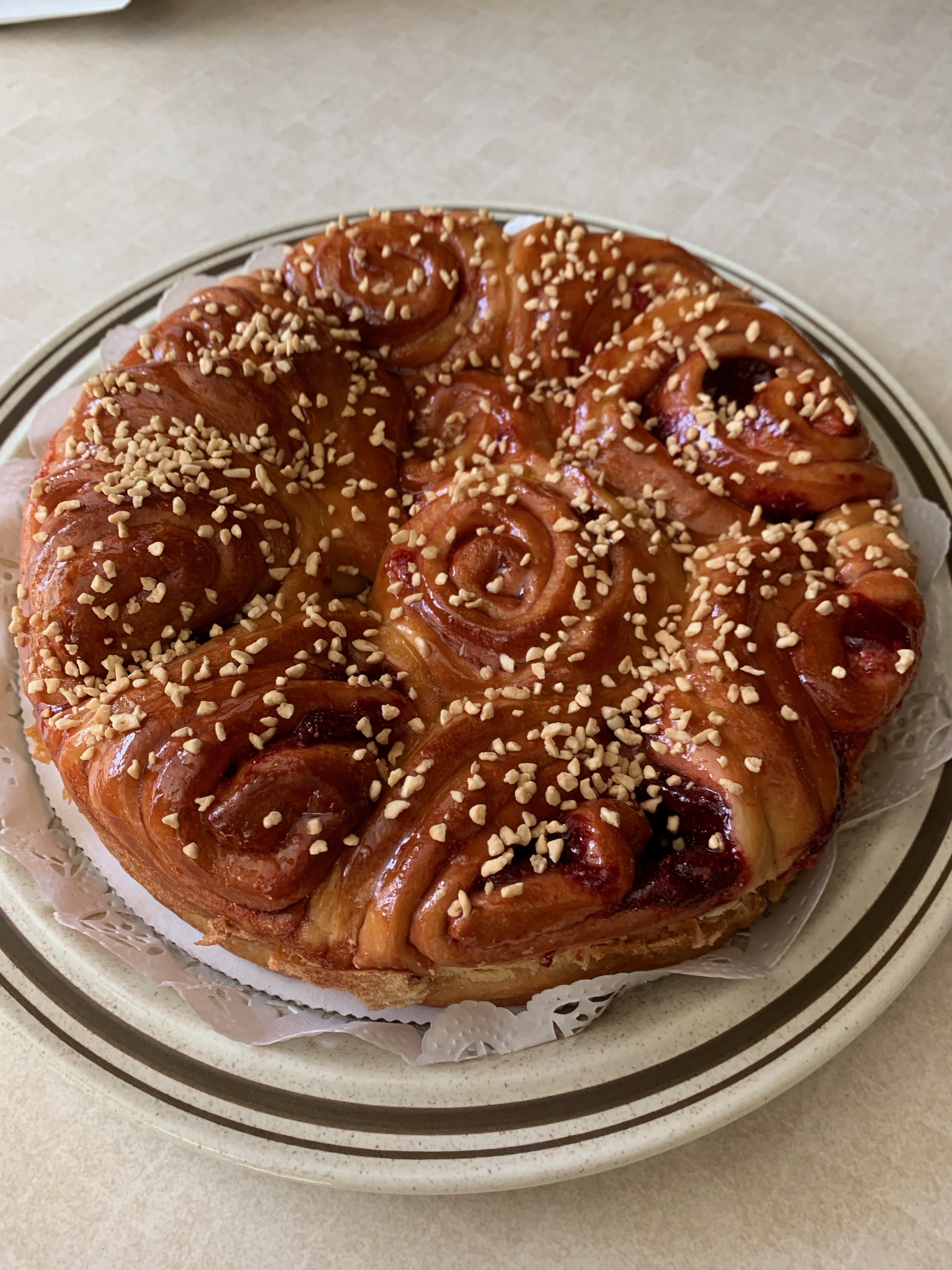 This is the strawberry cake I found at Konditorei Austrian Patisserie in Davis, California. It was so good!
We also got a look at some of Dierdre's Paintings...
Check out Dierdre's book, "The Sharp End of Life: A Mother's Story." If you have a question or a comment for Dierdre, write us an email at info@myfarewelling, or catch up with us on social media @myfarewelling. We'd love to hear from you, especially if you're living your own bucket list! #livingmybucket