No, This Is Not Your Average Funeral
Are you―or someone you're honoring―a fan of a more moody aesthetic? Do you revel in the magical cycles of life, even embracing its more shadowy or dramatic elements? Then a gothic memorial may be exactly the right vibe. We know, it's not for everyone, but it's just right for some, so our editors have put together some inspirations for all the aspects of a truly gothic-chic farewelling. We've broken down the ideas into categories to help you create a personal event with unmistakable personality.
Help with Planning a Gothic Remembrance Event
If you're planning a goth-inspired funeral or memorial now and you'd like a lot more guidance, support, and inspiration, take a look at our Farewelling Planning Toolkit. It was created and curated by our team of experts and editors to offer planning and budget help, a customizable checklist, and photos to inspire your planning based on the style and ambiance you'd like to create―even for a gothic memorial or funeral. It's all about honoring your loved one (or yourself) in a truly special way. Let us help!
Mood.
For true fans of the goth aesthetic and lifestyle, a funeral just may be the ultimate party, and the muted color palettes and embrace of mystery and even darkness may be celebrated in and of themselves, or mixed with a bit of wit, whimsy and even magic. A goth-inspired sendoff may be more or less elegant, and may embrace natural and eco-friendly elements, but will no doubt bring a bit of drama and wit. The more the group itself can be willing to participate, the more powerfully the mood will express itself.
Location.
If there will a burial, a goth themed funeral can easily be organized at the cemetery. (What's more goth than a graveyard?) If, however, the person who has died will be or has already been cremated, there are a number of settings that lend themselves to the aesthetic.
A cemetery (Note: Most cemeteries will have designated areas where they can bury or house urns, and interestingly, even if you are not burying an urn, there is a chance that the cemetery will allow you to gather at their location)
A mausoleum
An old church
A classic library
An empty warehouse
A decorated barn
A forest or meadow
A moody home or hotel
A club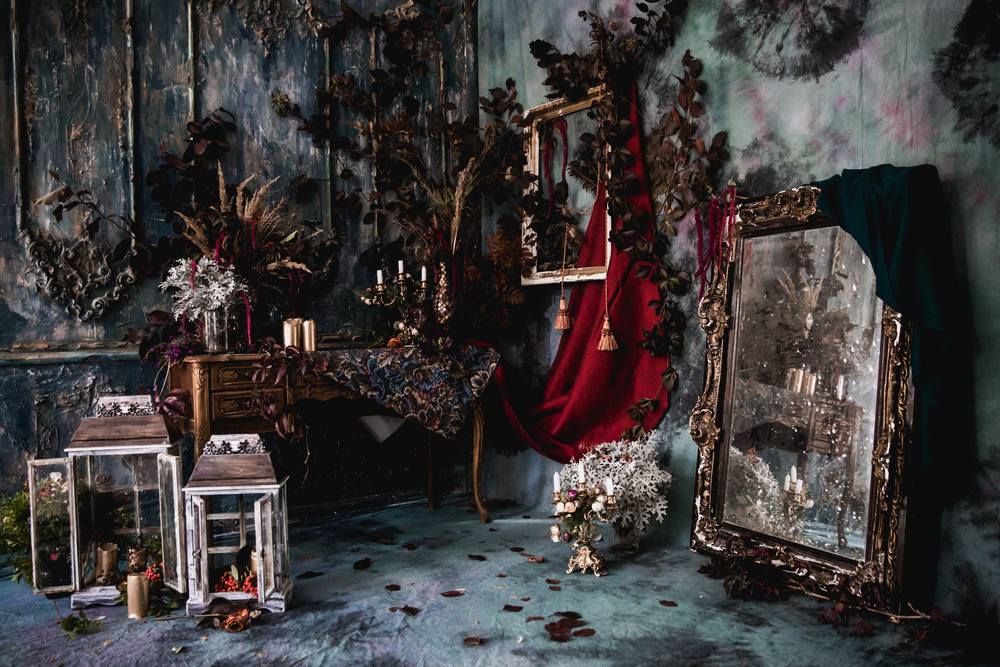 Decor.
Fortunately, with this theme, many of the items that are common at a funeral or memorial―caskets, urns, grave stones, deeper color palettes―fit in well. Candles add mystery and drama, in black, red or gold. (If you're not able to have candles burning, opt for LED lanterns or strands off twinkling lights which will safely give off a similar effect.)
Flowers, branches and leaves can make a stunning statement with texture and deeper hues such as burgundy, purple and even the "black" of certain roses or calla lilies. Dried flowers and pods, feathers, ripe fruits, apothecary bottles, lace and velvet are also great decorative elements to create a goth atmosphere.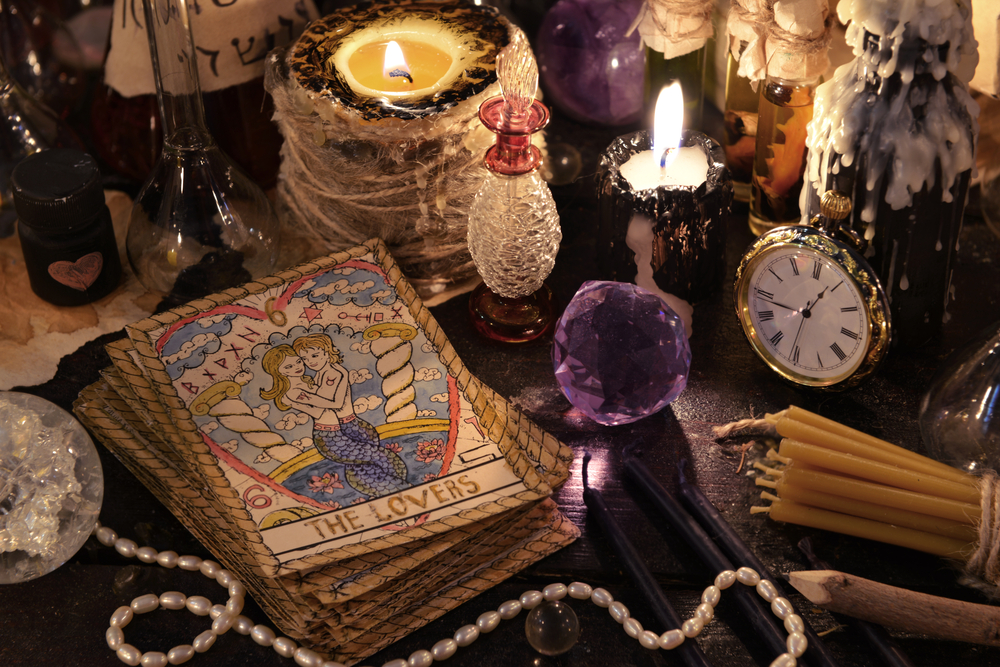 Consider creating a beautiful altar or a tableau at the entrance with a mixture of elements and photos in an interesting collection of frames. Artistic installations (hanging black umbrellas, anyone?) and quirky details will create an unforgettable statement.
Transportation.
As with any details of a gothic-inspired memorial event, you can choose to keep it more low-key and classic, or dial it up for dramatic effect. Traditional black funeral rides would fit well with a gothic theme: limousines, vintage models, or even motorcycles. For the lead car, you might consider something with more flair―an antique red hearse, for example, or why not a horse-drawn carriage (pulled by a team of striking black horses, of course.) Ask your funeral director or search in your area for specialty transportation providers.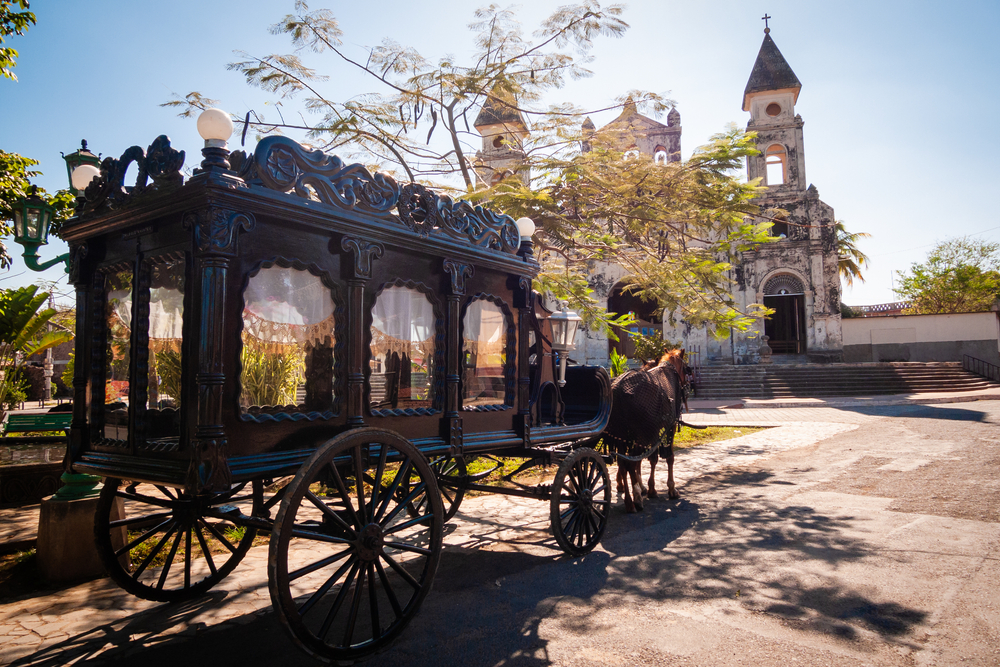 The Spoken Word.
There are plenty of poems and writings that can suit a darker or more gothic mood. Wit, ancient wisdom, and even poetry can add unique moments, especially if they come from writers who were loved by the person whose life you're celebrating. Here are two examples of gorgeous readings for a goth memorial, but you can find many more ideas in our Farewelling Planning Toolkit.
Let There Be Black Roses
Let there be black roses
With thorns as sharp as a sword
Let there be ravens and crows
Screeching in agony
Let the reaper stand over
My grave like a guardian angel
Let there be wolves
Surrounding my tomb
Ah yes this is indeed
A most gothic funeral
~Ryan Taylor
Lady Lazarus
I have done it again.
One year in every ten
I manage it—
A sort of walking miracle, my skin
Bright as a Nazi lampshade,
My right foot
A paperweight...
Dying
Is an art, like everything else.
I do it exceptionally well.
I do it so it feels like hell.
I do it so it feels real.
I guess you could say I've a call.
It's easy enough to do it in a cell.
It's easy enough to do it and stay put...
I am your opus,
I am your valuable,
The pure gold baby
That melts to a shriek.
I turn and burn.
Do not think I underestimate your great concern.
Ash, ash—
You poke and stir.
Flesh, bone, there is nothing there--
A cake of soap,
A wedding ring,
A gold filling.
Herr God, Herr Lucifer
Beware
Beware.
Out of the ash
I rise with my red hair
And I eat men like air.
~Sylvia Plath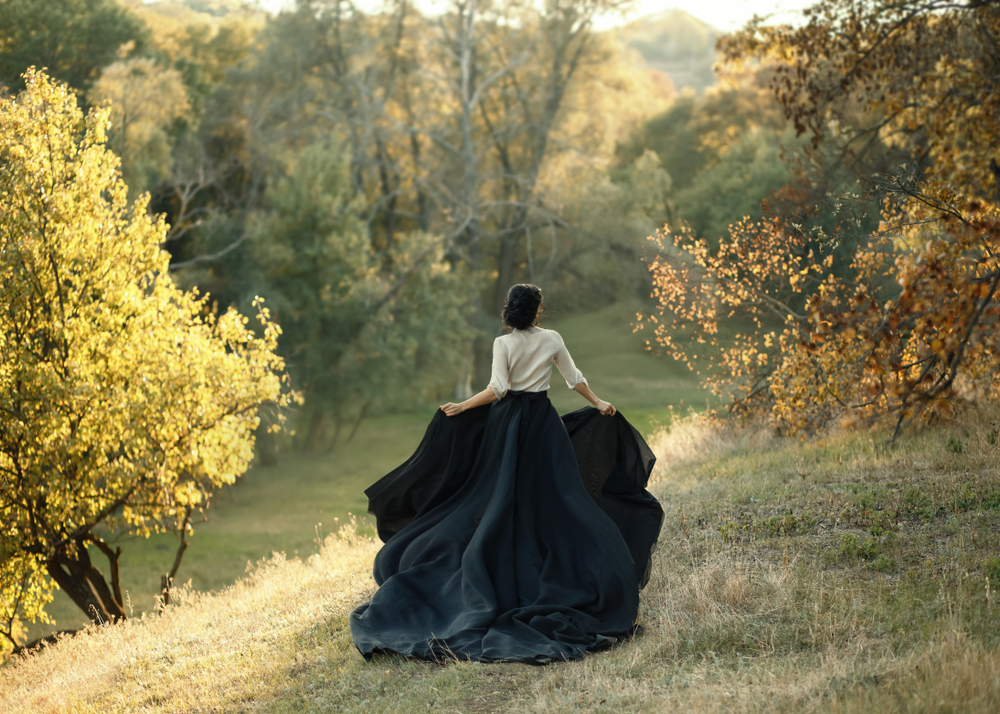 Music.
To create an ambient mood, and depending on whether you want the entire event to have that gothic feeling, or just certain parts or moments, there are plenty of songs to choose from. Classical music can be perfect for a ceremony―Chopin Nocturnes or something from Opera. If you're looking for more modern goth music, we might suggest:
The Cure's The Funeral Party
Funeral March by The Goth Piano
We Belong with the Dead by Inkubus Sukkubus
Mazzy Star's Fade Into You
The Funeral by Band of Horses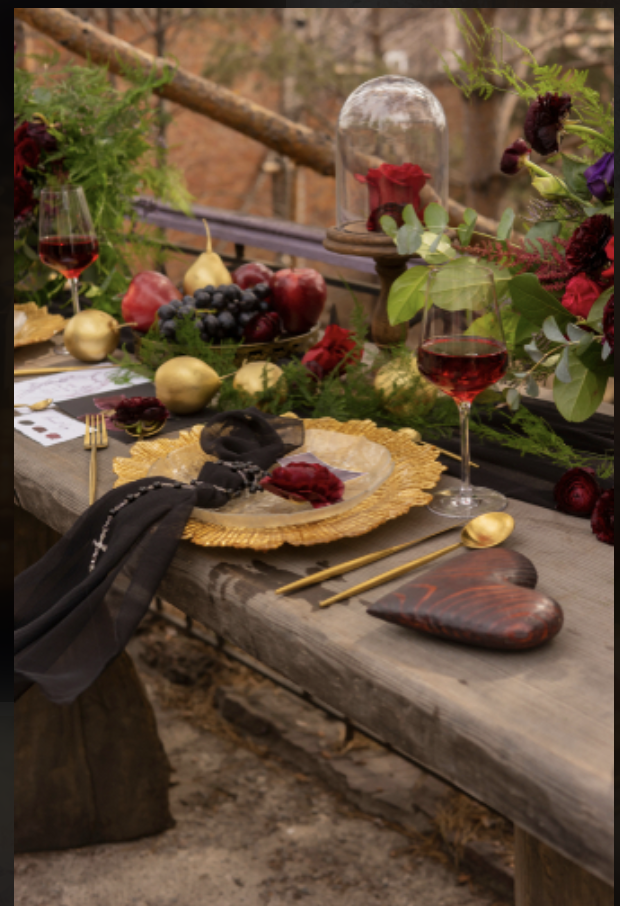 Food and Drinks.
Tailor your menu to the format of your reception. If you'll host a cocktail-style party, think dramatic charcuterie, a selection of cheeses, handmade breads and ripe fruits. For a sit-down dinner, create a feast-like feeling with roasted meats and seasonal vegetables or black squid-ink pasta. Add an unusual ice cream flavor (and color!) and maybe even a dramatic dark chocolate cake (or cupcakes). Don't forget to match your drinks to the theme. Consider a deep red sangria or fruit punch, or even a "Black Label" scotch. But remember, not every item needs to be kitschy or "on-theme." A good Champagne or simple Prosecco (or even craft beers) could work well, too.
Activities.
Invite those attending to follow a suggested dress code of "Black, Red and Tears" and set up a temporary tattoo station where folks can add some flair in honor of the person you're celebrating. or ask everyone to bring an object to add to a natural altar in tribute to the person you're honoring. Storytelling, singing together, or just dancing wildly to tunes that spark memories can be great for creating meaningful moments.
Keepsakes―for Others and for Yourself.
Our Farewelling Editors are constantly reviewing and curating resources to help you with your planning. We may receive a small commission from any purchases made through the links.