If You're Honoring Someone Who Was Sensitive to Climate Change and Caring for the Planet, This Article Is for You.
Whether you're planning for yourself or a dear one, here are some great inspirations for all the aspects of a more eco-friendly funeral or memorial (or farewelling, as we like to call it). We've broken down the ideas into ten categories to help you create a beautiful vision.
Mood.
An eco-friendly or "green" farewelling often has a simpler, more intimate feeling and may be somewhat more casual and unique in format than a traditional service. It could feel meditative and quiet, or more celebratory, or even a combination of both with a ceremony that acknowledges the sadness of the loss, followed by a gathering or reception with music, candles, and sharing.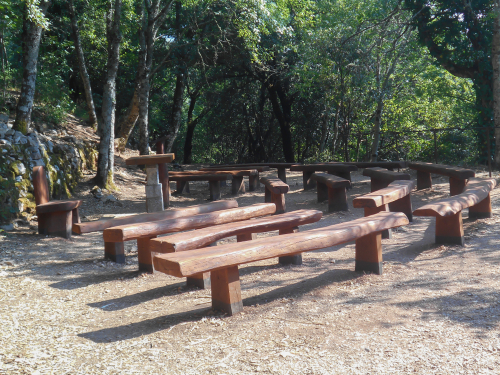 Location.
Whether there is an actual burial service or a post-funeral memorial event, eco-friendly tributes may take place outdoors in a natural environment, indoors, or even entirely virtually. The key is simply to minimize elements that are known to have a harmful impact on the environment, wherever the celebration may occur. Here are some examples of locations for a green memorial service or Earth-friendly funeral:
Green Cemetery
Nature Preserve or Trail
Local Park or Garden
Lake, Mountain, Forest or Beach
Camping Ground
Home/Backyard
Church or Community Center
Yoga Studio or Loft
Favorite Restaurant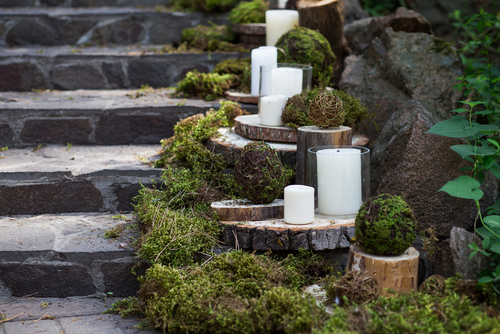 Decor.
Nature offers a wonderful bounty of decorative options. Local flowers and greens, stones and branches, and even feathers can make lovely adornments woven into a willow or bamboo casket or laid across a burial shroud. Large pails of softly waving grasses may be perfect for a memorial taking place in a meadow. Soy candles or LED lanterns can add atmosphere for creating a sacred space. Try to avoid single-use plastics and floral foam in decorative objects or arrangements. Instead, use vessels that can be reused, recycled or regifted.
Transportation.
For a truly green event (and a lovely detail), consider a pulled wagon or horse-drawn carriage to transport the person who has died. Does that sound too green? If you'll need a car, try to opt for an electric or hybrid SUV or limousine. Every small gesture counts with Mother Nature!
The Spoken Word.
In speeches and readings, note your loved one's closeness to the natural world. Tell stories about their efforts to be a good citizen of the Earth. Ask that friends and family take a specific eco-friendly action in memory of the lost one. Cite passages that celebrate our bond with nature, or quote champions of the environment. Here are two examples, but you can find hundreds of readings in our Farewelling Planning Toolkit if you need more.
"Nature's first green is gold,
Her hardest hue to hold.
Her early leaf's a flower;
But only so an hour.
Then leaf subsides to leaf.
So Eden sank to grief,
So dawn goes down to day.
Nothing gold can stay."
― Robert Frost
"All-powerful God, you are present in the whole universe
and in the smallest of your creatures.
You embrace with your tenderness all that exists.
Pour out upon us the power of your love,
that we may protect life and beauty.
Fill us with peace, that we may live
as brothers and sisters, harming no one.
O God of the poor,
help us to rescue the abandoned and forgotten of this earth,
so precious in your eyes.
Bring healing to our lives,
that we may protect the world and not prey on it,
that we may sow beauty, not pollution and destruction.
Touch the hearts
of those who look only for gain
at the expense of the poor and the earth.
Teach us to discover the worth of each thing,
to be filled with awe and contemplation,
to recognize that we are profoundly united
with every creature
as we journey towards your infinite light.
We thank you for being with us each day.
Encourage us, we pray, in our struggle
for justice, love and peace."
―Pope Francis's 2015 encyclical Laudato si'
Music.
The beautiful thing about music is that in and of itself, it is never wasteful or harmful. So the music played at an earth-friendly service should suit the personality of the one being honored. That might be U2's "Indian Summer Sky" via Bluetooth speaker, a favorite dance pop song, or an acoustic version of Bob Marley's "Sun Is Shining." If the event takes place indoors, you might choose a soundtrack of natural sounds―birds or rainfall, for example.
Accents.
Consider sharing a digital album or memorial website of pictures and stories that friends and family can access and contribute to for years to come. Create an offering table at the service or later and fill it with objects (books, clothing, artwork, tableware, or other items) that were dear to the person who has died. Let friends and colleagues choose a memento to take home, to use and treasure in a new chapter.
Food and Drinks.
The key here is to go as local and as organic as you can. That might mean finding a farm-to-table restaurant or food truck to cater a reception, or just hosting a potluck picnic with an emphasis on fresh, seasonal ingredients and organic, biodynamic, or craft beverages. Do be mindful of utensils if they'll be disposable. Look for compostable one-use flatware and plates and recycled paper napkins if you can.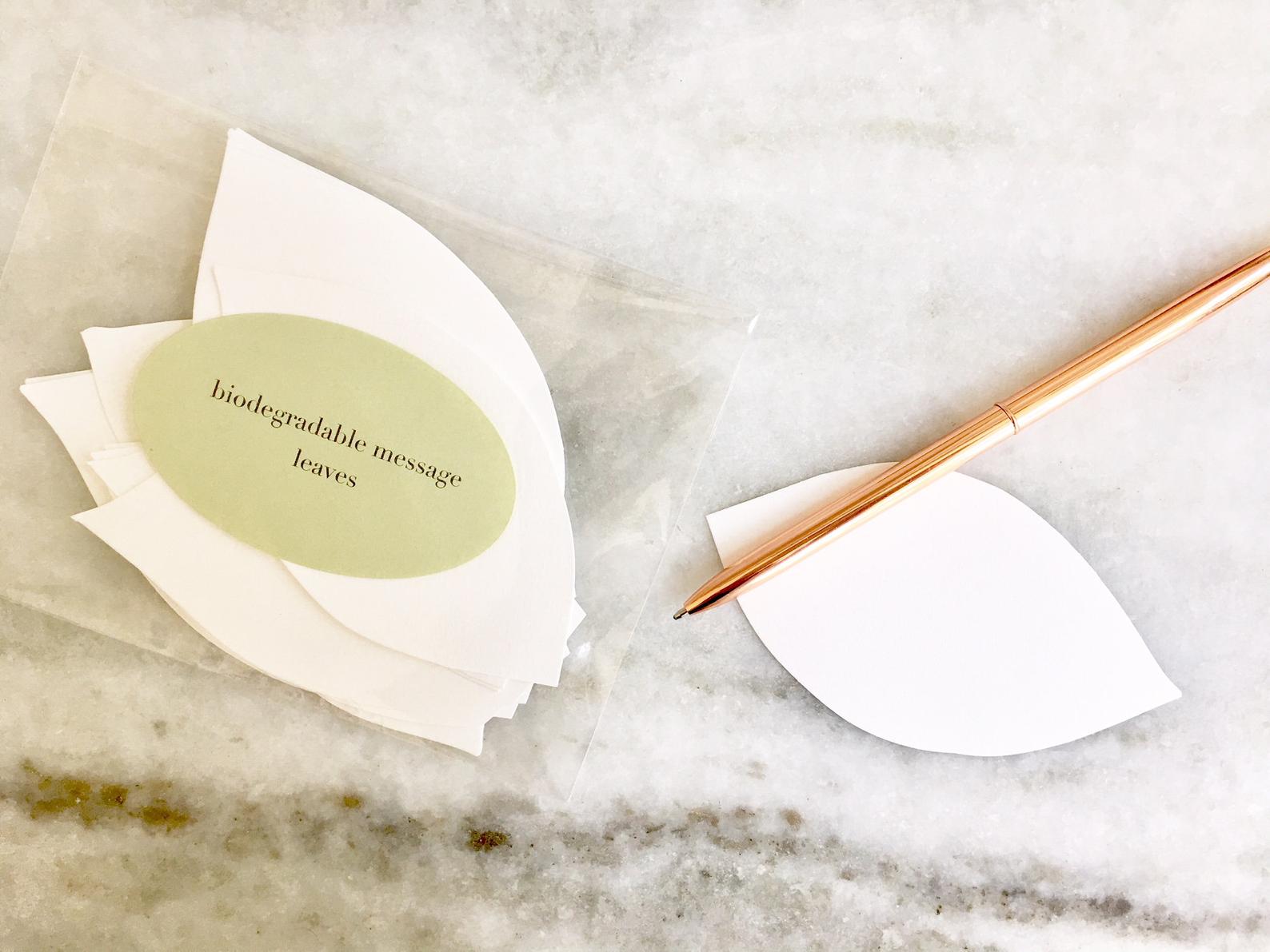 Activities.
Whether your memorial event is in person, virtual, or a hybrid, you can organize donations to a local farm or environmental justice group. Host a casual event to clean up a local park in the name of the person who has died or partner with a food bank to provide healthy fruits and vegetables to those less fortunate. The best thing you can do to honor someone who was passionate about the environment is to encourage others to act with passion as well.
Another lovely idea is to give each attendee a biodegradable message leaf and ask them to write a message and leave it in nature, either at a site you have created, or somewhere they prefer--a garden, beach, etc. The messages will become one with nature over time.
Keepsakes―for Others and for You.
Earth-friendly Keepsake Favors. If you want to offer a small gift to those who attend the farewelling, consider the above suggestion to create an "offering table," or lay out baskets of seed packets, tree saplings, organic teas, or local jams or condiments. Gifting people something that will not only evoke a sweet memory, but also support eco-friendly businesses or organizations, is a great way to wrap up a truly personal tribute.
Keeping Their Memory Close. For yourself and other close loved ones, there are a number of modern memorial products. Parting Stone creates a collection of beautiful, one-of-a-kind smooth stones out of ashes. You can share these stones with others or use them to accent your home or garden.
If a "green" funeral or eco-friendly memorial was important to your loved one, let us help you honor their values with substance and style. Our Farewelling Planning Toolkit guides you with inspirations, advice from experts and answers from our Concierge Team--even suggested readings, music playlists and a budget tool to help you know where to spend and where to save.
Our Farewelling Editors are constantly reviewing and curating resources to help you with your planning. We may receive a small commission from any purchases made through the links.