A Funeral Industry Insider Who Helps Families Understand and Appreciate More Earth-Friendly Options.
Lauren Carroll is a green funeral director at Return to Nature Funeral Home in Colorado Springs, and co-founder at Deathwives, a death care collective. She is a home funeral advocate and an educator. Death and dying has been her life's calling. She continues to honor this passion through her volunteer work in hospice, and by serving on the board of directors for the National Home Funeral Alliance. Her work creates connections between home funeral educators, funeral homes, death doulas, and the families she serves. We think she's awesome! Read on for more about her background, her approach, and what she considers a "must" at her own farewelling.
How did you become a funeral director?
I think I always had an interest in death. As a little girl I loved the "Scary Stories to Tell in the Dark'' collection, and my mom has a recording of me singing "The Hearse Song" when I was in fourth grade. But when I was 13, my uncle died in a tragic car accident. He was 27 years old. I think this was my first true understanding of death and its impact. I was scared.
So I did the opposite of what I teach now and went into full fear mode. I would hold my breath when we drove past cemeteries, and wouldn't even look at hearses. It was my grief that had turned into fear, and I am grateful for that because it gave me the knowledge that we can be afraid and grieve and still overcome and even come out of it with a healthier relationship with death.
It was a high school boyfriend who actually got me into a funeral home. I was 19 and the funeral home he was working at needed a secretary and someone to type the death certificates. I steered clear of the bodies and worked a few services when they were short staffed.
It wasn't until one day when the staff was all at a service that the owner asked me to do a "removal" from the hospital for a stillborn baby. A removal is when we take the body into our care. I was terrified. They told me to bring a box with a blanket. I didn't like that idea so I just brought the blanket. When I arrived at the hospital, I told the nurse who I was and she said she would get the baby. She asked what I'd brought to hold him in. I handed her the blanket, and she smiled at me and said, "How sweet."
She came back with a completely swaddled, full term dead baby. I quickly carried him to my VW Jetta and gently laid him in the front seat and buckled him in. I had no idea what I was doing but as I was walking to my car holding this baby, everything changed for me. I was holding and caring for a baby who was greatly loved and who was now being greatly grieved for. It was in that moment that Love trumped all my fears.
What an honor to be entrusted to care for this baby, and then for the family. Theirs was the first funeral arrangement conference I sat in on, and that was that. I was a funeral director and death care worker for life.
What do you find most surprising about this industry?
The amount of misinformation in the traditional funeral world. In 2007 I was working as a funeral director for a large corporation. And it was during this time that I saw the documentary, "A Family Undertaking." My heart lit up seeing these families share their stories, and the importance and healing that takes place when we care for our own in the comfort of home. I didn't realize as a funeral director that it was even an option to have an unembalmed body at home. We'd always told families that for health and safety reasons, we require a body to be embalmed for public viewings. I now know this is not true and that embalming is never required by law, but many funeral homes still spew this old, outdated rhetoric.
What do you find inspiring about the world of death care?
I love seeing the new options being made available to families. More women are joining the field and with that, bringing compassion and new ways to honor our loved ones that are more unique to them and their lives. We are shifting away from the pre-packaged, cookie-cutter "traditional funerals.''
What do you find most difficult about what you do?
I can create a loving ceremony. I can offer sincere compassion and care, but I cannot take away grief. This last year with the COVID-19 epidemic I saw a new grief, and there were moments when I felt broken by it. Families stripped of being able to say goodbye or even be in the room with their loved one. Unable to have a viewing or a service. Just hollow and in shock, and as a funeral director my hands were tied for months. I just sat on the phone with families while they grieved and sobbed heavily on the other line.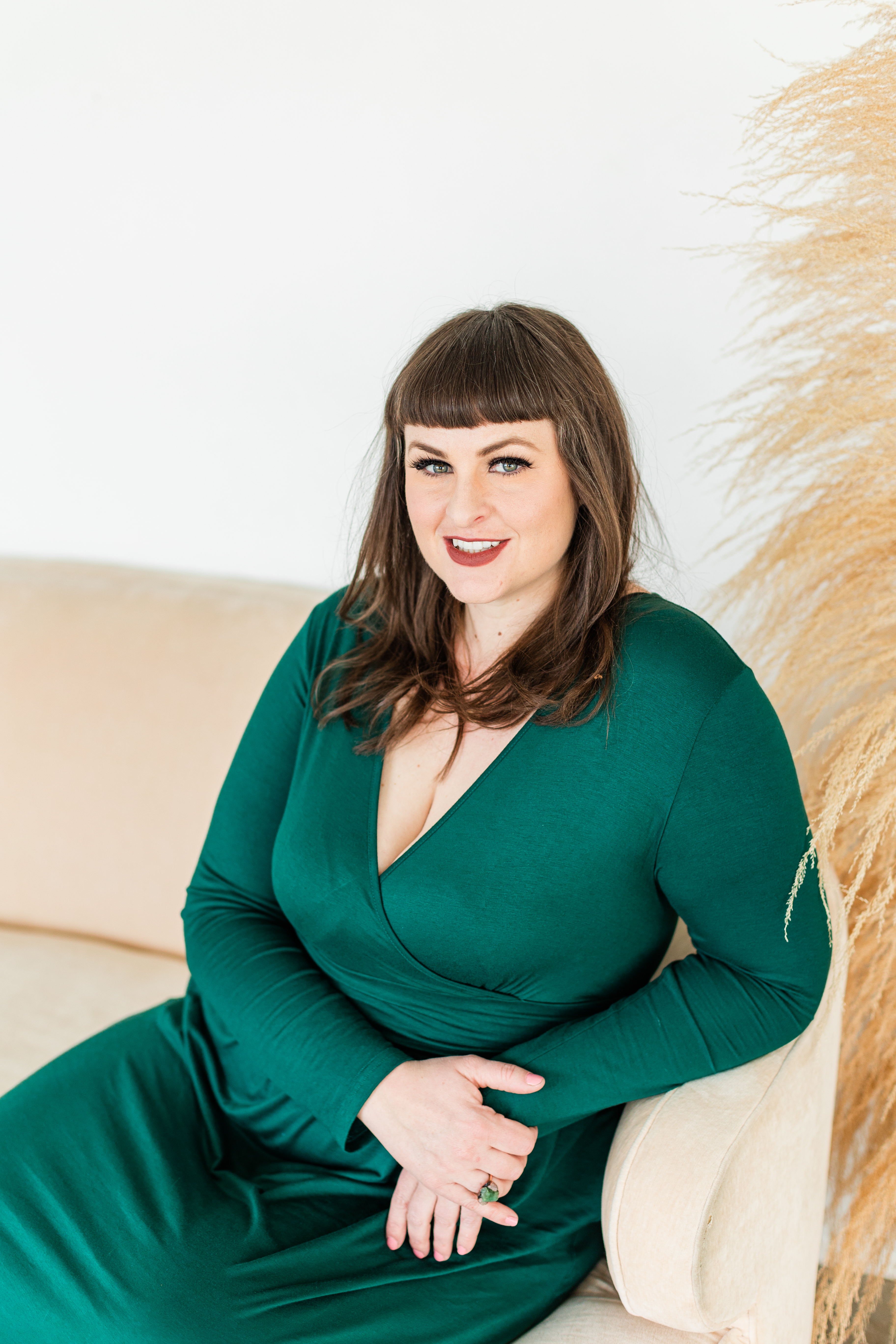 What is it like to be a woman in an industry that's been traditionally male-dominated?
When I moved to Colorado and left my hometown funeral home, it was the first time I felt the patriarchy of the funeral industry in full force. I was 22 and I was called "Sunshine" or asked to see my "pretty smile" by my male associate funeral directors. They often asked if I got emotional at funerals, if I could handle this work. But the worst part was the blatant sexual harassment. I was asked to change out of a skirt suit once for being too sexually appealing. I was 22, wearing a suit from Sears, but I had breasts. I can say I have seen a shift in work places, or maybe the old guard are dying off. But I still get overlooked at services on occasion and the pastor will go to an associate, assuming he is the funeral director. I still love that occasional look of surprise.
How would you describe your unique approach towards funerals and working with families?
I walk into each arrangement with the mindset of, how would I want to be treated if my family member had just died? I have met many "burnt out" funeral directors, and working with loss and grief daily does take its toll. I walk in with compassion in my heart and an openness and understanding of how grief can present itself. I'm not offended if someone is rude or when a family breaks out in an argument during arrangements. I am there to hold space for them, but I always mentally note: this is not my grief. I find healthy outlets or people to talk to when I do feel their grief creeping into my life. Boundaries are great; therapy is even better.
What should we be looking out for in the near future in terms of green, or eco-friendly funerals?
I think green will become the norm again. We are becoming more and more earth conscious, and families in our community are wanting to honor that. Green funerals aren't a new trend--it's just a return to the traditional ways. I love seeing even more green funeral options emerge too, like Alkaline Hydrolysis and Natural Organic Reduction. To return to the Earth is a full cycle of life to me and has been my passion since I first started working in this field. After the first embalming I watched, I immediately called my family and said, "No one I love will be embalmed."
The first time I watched a fire cremation, I knew that I wouldn't go through that process either. I wanted a shroud burial in a natural preserve at age 19, and I haven't changed my mind since. Nothing pleases me more than explaining these options to families and seeing a smile on their faces when they say, "I had no idea this was an option. This is exactly what my mom would have wanted." Education is the most important part of the future of green funerals and there are wonderful advocates out there whom I call friends.
Nowadays when it comes to funeral arrangements, what are families mostly concerned with or requesting?
I would say where I live, it comes down to money. It's a big life event, death, and just like a wedding, or a baby, there will be expenses. We don't like to talk about death and funerals as a society, so in the end families are caught off guard by the expense and look for the lowest cost.
We are all 100% going to die. Why not plan your funeral service now? Put money aside, and let your family have peace of mind so you get the service you want without the financial burden. I will add that learning about doing it yourself and eliminating some of the work of the funeral home is also an option. A home funeral is more affordable and a more intimate setting than you will get in a traditional funeral home.
How is new technology impacting your business?
Since COVID-19, we moved most of our documents online. Families who choose direct cremation or direct burial speak with me once or twice on the phone, fill out the required documents online, and I either meet them for the first time when they pick up the ashes and death certificates, or not at all because they have requested we mail them.
I have a love-hate relationship with technology. I know it is crucial and has kept us connected and safe, but death work is more intimate than a phone call and computer screen. But we work with what we have and still give each family care and support, even if digitally.
We know this is a very time-consuming profession. So, when you do get time off, how do you like to spend it?
Talking about death and dying. It's true! I co-founded Deathwives in 2019 with Erin Merelli, and any weekend I'm not on call as a funeral director, I am teaching a live Zoom workshop. Education has always been my passion. It is at the heart of everything I do as a funeral director and death worker. But when I need a real break I love to go to the hot springs, or binge Netflix. Give me nature, friends and bonfires, or give me total laziness.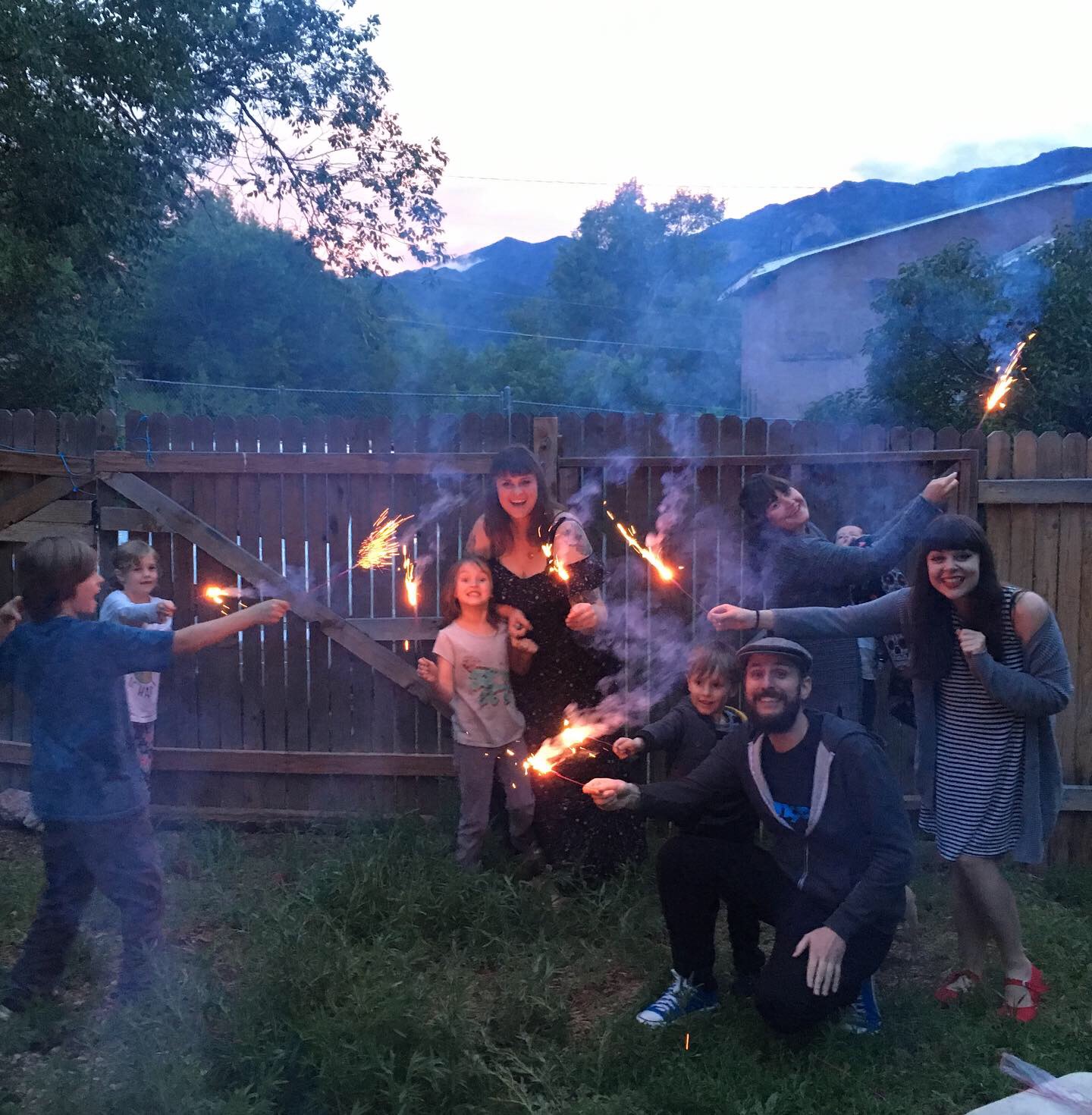 What is one thing about you most people don't know?
I am a woman of traditional ways. I had a home birth, I want a home death and home funeral. I love urban farming and hope to one day live off-grid. I currently just have chickens and gardens again, but have had dairy goats that I milked daily, and a pot belly pig, too. There is nothing better than food you've grown, and milk that is fresh in my opinion. I would love to see us return to the days of knowing our neighbors, sharing our food, and supporting each other in our communities. Oh and I have many tattoos, but my favorite is of St. Francis on my arm, and he is surrounded by pets that have died throughout the years.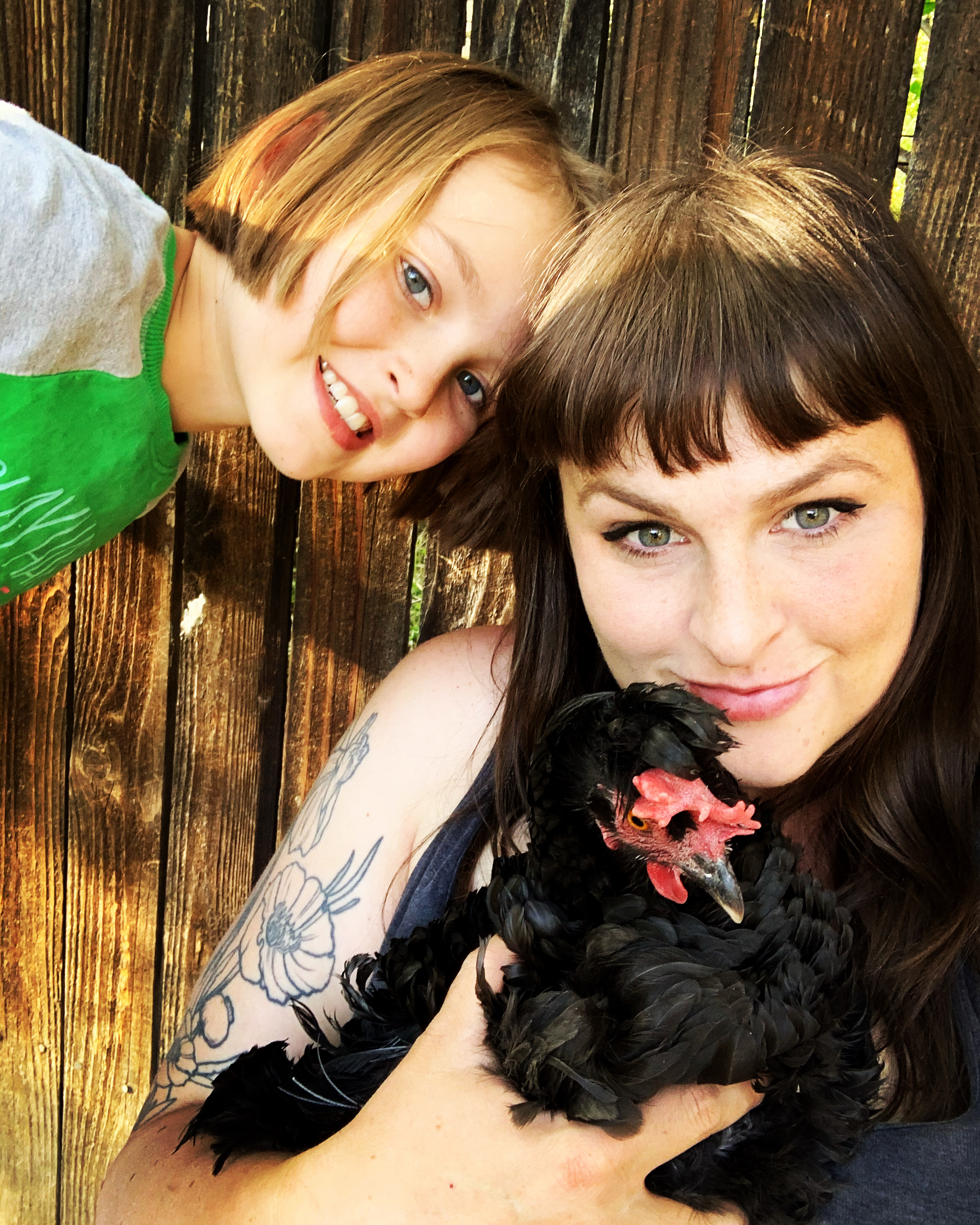 What's a recent project you're excited about?
In 2020 Deathwives changed how we offer education. In the past we held workshops in a Victorian mansion in Denver and ended with a cocktail hour in the garden. We never thought about teaching on zoom or to a wide audience, but it has been amazing and have had students from all over the world. Because of this we realized how important it is to have this work and education be easily accessible and affordable, so we are currently working on turning all six of our core classes into evergreen courses that will be available online at any time.
You spend your time planning for others, but if you had to plan for yourself, what would you include in your own farewelling celebration? We call that the "Farewelling Five."
1. I think it's a great gift to have someone "come alive" again during their final farewelling. I want everyone to walk away thinking, "Yep, this is so Lauren." I love the idea of me giving away personal items like jewelry or clothing to friends before death and having them wear it. Most of my clothes are black, but I would want a more colorful funeral.
2. I want a home funeral so family and friends can spend time with my body before it's shrouded and covered in flowers (hopefully I die during the Spring or Summer, so wildflowers are abundant).
3. I want a small graveside service at a natural burial preserve, and I want it to end with the song "Safety Dance" by Men in Hats, and I want everyone to skip away with streamers and banners and biodegradable confetti thrown in the air.
4. Then have a big party/ reception with a Mexican feast and margarita fountain.
5. I want there to be a parting gift of a small plant or succulent for people to take home with them. I would hope that family and friends would be sad at my death, but also celebrate my life because they are all so death-accepting after years of listening to me go on and on about it.
You can learn more about Lauren's work as a funeral director and manager at Return to Nature Funeral Home, or with Deathwives, and you can follow her adventures and advocacy for eco-friendly and home-based funerals on social media @deathwives.