Inspiration from a Rap Legend Who Lived Both Large and Lovingly.
Rapper DMX (given name: Earl Simmons) died suddenly at age 50, leaving behind a large family, a legacy of hard-hitting lyrics, and an unmistakable musical style. But aside from the tragedy of losing him too soon, we've also been inspired by all the personal details his family (and those he loved most) put together to create a one-of-a-kind tribute to celebrate his one-of-a-kind life. Isn't a personal, heartfelt event that aligns with our values and brings those we love together exactly what we all want? Here are five of our favorite elements from the amazing farewelling of the legendary rapper DMX:
1. The A-List Came Out to Pay Their Respects to a Legend.
DMX's funeral was private, but that didn't mean it wasn't star-studded AF. Held at NYC's Barclays Center, the tribute was attended by hip-hop royalty, including Jay-Z and Beyonce, Busta Rhymes, Swizz Beatz, Fabolous, Jadakiss, Styles P, and the Ruff Ryders, among others.
2. The Community Was There, Too.
But aside from the big names, masses of everyday New Yorkers came out to pay their respects as well, with hundreds of sport bike and ATV enthusiasts gathering to buzz around the Brooklyn neighborhood, revving their throttles and popping wheelies (cheered on by pedestrians and drivers honking horns) in honor of DMX, who has achieved cult status as a rap icon forever.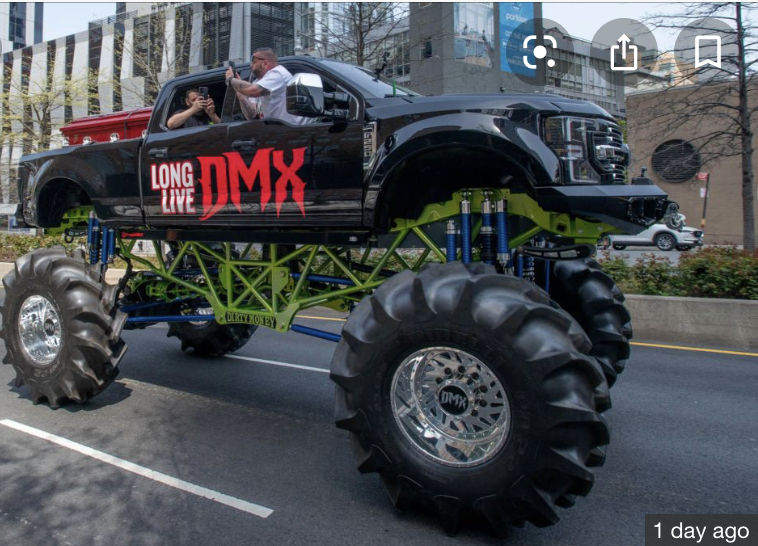 3. A Basic Hearse for DMX? Y'all Goin' Make Him Lose His Mind!
The music legend was a monster truck lover till the end, so clearly traditional funeral transportation just wouldn't do. His sleek red casket was proudly positioned in the bed of a shiny monster truck adorned with the words "LONG LIVE DMX" across the doors.
4. His Ex-Wife and His Fiancée Supported Each Other at the Service in His Honor.
Sometimes a funeral can inflame conflicts within family and friend groups, but not this time. These two women came together in solidarity to celebrate the man they loved, his beautiful and kind spirit, and each other. Brava!
5. Music Was Central to the Celebration.
Kanye West was there in full effect, and his Kanye West Sunday Service Choir performed for the occasion to memorialize the life of a musician who inspired generations of hip-hop artists and fans. On the streets of New York City, mourners blasted DMX classics from cars and apartment windows. What better way to send off a musical legend than to raise voices in his honor!
Do any of DMX's funeral details make you think about what you might want for your own farewelling? Does music matter to you? Do you want a casket and a choir? Let us know!