Funeral director Tamara "T" Bullock was born and raised in the South Bronx. She didn't come to her career in death care via a family connection, but through a passion for service she discovered when she experienced loss several times in her own family as a young person. Like a growing number of professionals entering the field, she's a "first generation" funeral provider, and she launched Bullock Funeral Services in 2017 because she wanted to take the step into entrepreneurship and build something of her own making. She's a mother too, balancing the demands of a business that is really unlike any other, with taking care of her own family and the families she serves throughout New York City. Read on for more on Tamara Bullock, in her own words, as she shares her inspirational journey and the unique style and philosophy she brings to her vocation and the company she has created.
You didn't enter the funeral industry through a family business, but rather by choice. How did you come to find this unique career?
Mortuary Science was not a path I chose. It chose me. The earliest childhood memory I can recall is being three years of age placing a rose in my great grandmother's casket in Hogansville, Georgia. I do not remember many funerals after that, but as a higschooler, I lost two of the dearest people to me--my maternal grandmother Lola and my father Leon.
My father's passing sparked an interest that would lead me into a career as a mortuary professional. At the time of his passing he had become a shell of the large guy I'd always known him to be, but at his funeral service in some way he was restored. He no longer looked ill, he was restored to a healthier appearance. A year later in 1998 a Daily News article came out about an NYC funeral director and it went into detail about his life as an undertaker and this was my "a-ha" moment. It captured what I was looking for, it gave a name and a relatable face to the career path I wanted to go into, and from that point on I was invested into committing my life to service and restoration.
What has surprised you most about working in the funeral industry?
I always thought I would work more with the deceased, but to my surprise I have become a counselor and a confidant. Funeral Directors hold a lot of family secrets in confidence.
What are some of the biggest challenges to being a funeral director and a business owner?
One of the biggest challenges is stretching myself to be there for my family and my funeral families. Funeral service is not a nine-to-five job. Someone can call on you at any time. As a small business owner it is important that I show up for my clients. At times the funeral services for their loved ones fall on days that I am invited to my own family events. It's always hard to find a balance. I have honestly been at funeral services on my own birthday for several years now but I feel like the funeral ceremony is something you can only do once so I'd rather help my families by being present for them in their time of bereavement.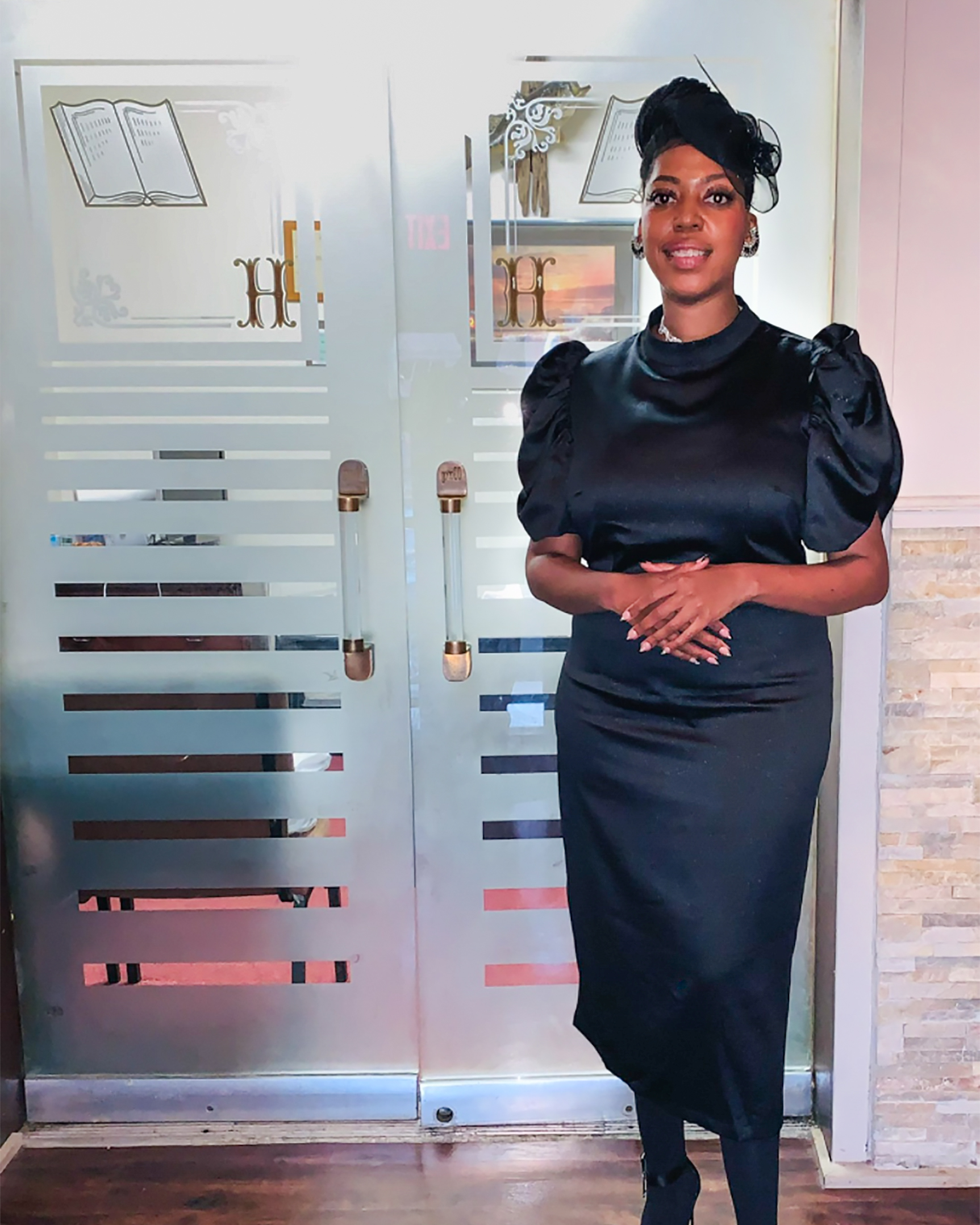 How do you see things changing within the death care space since you started, and what changes do you anticipate in the next few years?
When I started in funeral service most of the young adults in my class were entering into their family owned and operated businesses. There were only a handful of us first generation funeral directors and the class was mostly male. Today both dynamics have changed, there are women graduating from Mortuary Science accredited programs at record rates. In some schools there are more females than males, and there are a lot of first generation young people entering this career.
What changes would you like to see in how we approach death and dying in the U.S.?
I would like there to be fluid conversations between families on what should happen when we all pass, without fear. So many families scramble to figure out what a person would have wanted and where to find the means to pay for what we think they would have wanted. It could be so clear if we would just be willing to talk to each other.
What have you found is most important to the families you are serving?
Families appreciate the ceremonial part of a funeral. It not only creates closure and a chance to say goodbye but for many families it is the family reunion it is the time you can have your loved ones all in one place to share love and memories.
Has working in the funeral industry changed the way you see the world or your own relationship to mortality?
Absolutely, my kids know everything I want in place and who I want to do what when my time comes. They also know who I don't want to speak and how I want the services to proceed.
You bring a serious sense of style to what you do. Can you talk about what style means to you and how you incorporate it into your work?
I am from the Bronx and I live in Harlem. NYC is the style capital of the world. I've always had my own style and it was always a little to the left of what everyone else was wearing or doing. As a business owner I feel my staff is representative of the family and should always be well dressed. You wouldn't dare show up to a family reunion not dressed from head to toe. My staff is meticulous and always ready. That is the African American culture we came from. As a young child when my grandmother sent me to church I had on a hat, gloves, purse, tights and a dress and dress coat. So we never step into a church without being dressed for church. Now that we have to wear masks, they have to flow with the rest of our custom attire.
What's one unique idea or inspiration you've brought to personalizing a celebration of life for your families?
We are big on customization and creating looks and materials that represent who the person was for each of these requests, and it can be something completely different.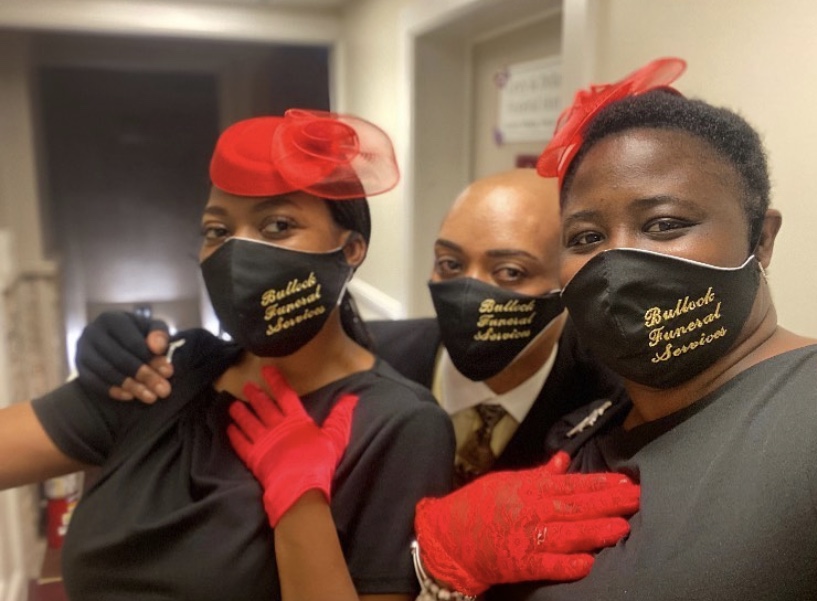 Have the restrictions around COVID-19 made virtual services more popular?
Virtual service options are now requested by most families. We have an amazing team in place to webcast funerals that stream on our facebook business page. For people who can't make it to the services, this is a tremendous asset to have. I believe this will still be in place after COVID is over.
As a funeral director and business owner, we know you're always busy, but is there something you do to keep yourself sane or a hobby or interest you pursue in your "free" time?
I make time to travel. Anyplace scenic that has a great beach and a good masseuse is usually on the radar.
Do you have any advice for entrepreneurs considering starting a business within the death care space?
Don't be discouraged, take a leap of faith and always remember why you came into a life of service. If your heart is in service to help, your gifts will make room for you.
Is there someone in the industry who inspires you? If so, why?
There are so many, but I'd say my generation of friends who like myself took a leap of faith from employment to becoming funeral firm owners. We all met in funeral service as employees, not really knowing how to bridge the gap from employee to boss but knowing if we took one step in the right direction another step would follow. The reason they inspire me is because they did not come from family owned businesses, yet they are building their brands and making names for themselves, so when we speak on some of the hardships that come with first-time ownership, I can bounce ideas and ask for advice from our small circle.
What's something about you that most people wouldn't know?
I'm big on fashion. In fact, I've designed a line of clothing for people who transitioned--I just need a few investors. I feel that many families would prefer to shop for everything at the funeral home, including clothing. The attire I have sketched is innovative and fresh.
Tell us more about the way you help families all over New York City.
We work as a concierge provider, so our families are catered to in their time of need from the arrangement process to picking up the clothing and even with helping to edit obituaries. We make it really easy for our families to participate the way they want to without adding additional stresses in their time of bereavement. We even return cremated remains directly to the family's home when requested.
If you'd like to learn more about Tamara Bullock and Bullock Funeral Services, check out their website or follow them on Instagram.