This Death Care Practitioner Uses Beauty and Storytelling to Craft Unique Celebrations of Life.
Rite of Passage Funerals is a modern funeral home on the Gold Coast of Australia. Founder Yasemin Trollope wants to reimagine the reality of death and dying by helping families create unique and meaningful ceremonies. Yasemin is a former website editor-turned-funeral director and celebrant. We talked to her about the personal experience that led her to work in the industry, the most memorable events she's planned, and the inspirations and challenges she's found along the way.
What motivated you to create your company?
In 2015 my mum had a near-death experience after an allergic reaction to chemotherapy treatment. She spent 10 days in the intensive care unit, desperately close to dying. The doctor told us that Mum could "go either way," and in those moments of shock and fear, I started to think how the traditional funerals I'd attended didn't fit my mum at all.
Thankfully Mum pulled through, and I didn't have to plan her funeral then, but the seed was planted for Rite of Passage Funerals.
A few years later, while on a sabbatical in the USA, I started to research the funeral industry, find mentors, educate myself on the processes and planning involved in helping families experiencing loss, and I slowly put the pieces together to bring Rite of Passage Funerals to life.
I wanted to create a more modern, personalized approach to funerals and end-of-life events, and really challenge the way things have "always been done" because I believed those ways really didn't make sense anymore. So many other industries, including weddings, had evolved, but funerals had stayed in the dark ages. I wanted to change that.
What are the biggest challenges you face while planning end-of-life events?
We're essentially event planners, and the tight turnaround time often expected with funerals means logistical challenges can appear. I always remind my clients that there is no rush here, take your time, slow down and embrace this journey at your own pace. I can work to your speed, so if you feel you "have to" have a funeral within a certain timeframe, question why? There really are no rules.
Early on I faced challenges with my own boundaries and working in the space of deep grief and loss, but over time I've learned my own self-care tools that really help manage that so that I can show up and guide my clients through this process, without taking on their grief. If I kept getting caught in the emotion of this work, there's no way I could keep doing it.
What do you find inspiring about the death care industry?
I absolutely love working in the death space! It has taught me so much about life and not sweating the small stuff. I have a deeper appreciation of life, loss and the ability for humans to heal and love, and that's all because of this work.
I'm also inspired about learning and pushing this industry to continue to grow and evolve. I've just launched The Funeral Fix with my good friend and fellow Funeral Celebrant/Planner Oliver Thomson. It's an online Funeral Celebrant training course like no other and we're so excited about helping shift and evolve funeral ceremonies even more.
Can you share some of the changes you've seen in the death industry since you started Rite of Passage? What changes do you anticipate in the next few years?
I think people are becoming far more educated about their options related to end of life, and they're really seeking out funeral providers who fit their needs. Independent funeral planners like us offer a unique, bespoke service, and people are resonating with how personal it is. I think this trend is only going to continue.
In addition, COVID has forced people to change the way they "do" funerals. In Australia, like so many other countries, large gatherings and interstate/international travel were prohibited, which meant funerals had to evolve rapidly. This meant a rise in what we call, "No Service, No Attendance" cremations, with families holding their own memorial service later. We really had to up our game with Zoom and virtual services, which are now the norm here. We've had to pivot rapidly to accommodate these changes, but overall they've also allowed people to become really aware of what a funeral service can be, and opened their eyes up to the endless possibilities. That's exciting to me because new conversations are emerging—conversations we all need to be having!
Women Lead Changes in the Death Care Space
What have you found is most important to the families you are serving? Cost? Service? Eco-friendly options? Something else?
Every family is so different, and I think that's the most important thing. To really listen to their needs and wants and not try to fit them into a template for the sake of convenience. Asking the right questions, delving into their intention behind the funeral service—why it's important to them and what they hope to achieve from it—can really help create an event of substance, meaning and beauty that helps facilitate healing in some way.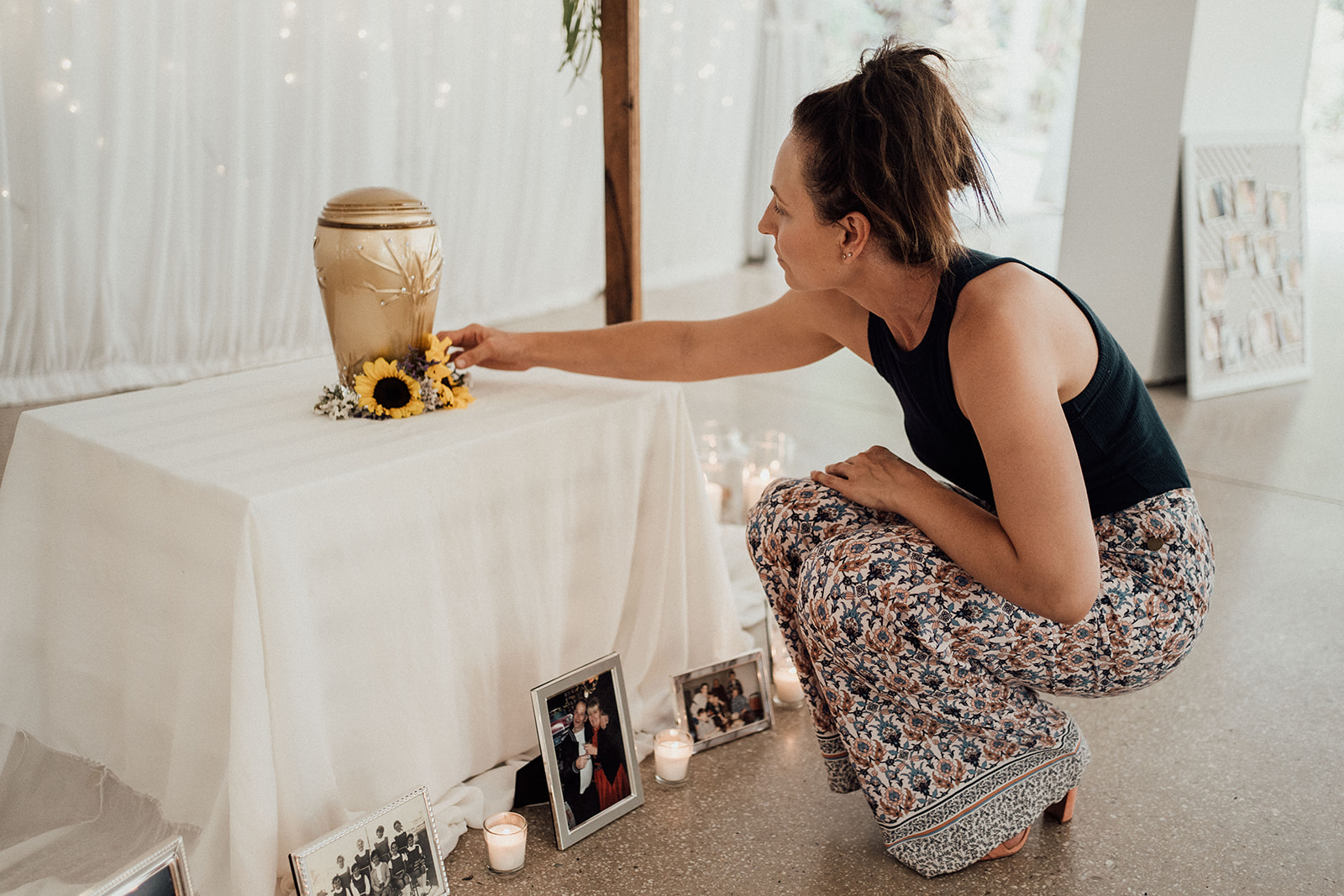 What's the most memorable end-of-life event that you've planned?
I've been lucky enough to plan some absolute crackers! One of my first-ever services was for a woman who practiced shamanism, so to incorporate that into her service we had a shamanic drummer come and play while everyone placed greenery around her urn (it was a memorial service). The service was in a gorgeous wooden hall in the middle of the bush, and everyone was seated on floor cushions at a large shared table with a vegan grazing board down the middle (she was also a vegan). As the drummer was playing a huge gust of wind came roaring through the ceremony space and blew out the candles, everyone had chills down their spine, it was a moment when you realize there's more to this work than meets the eye. It was truly remarkable.
I planned another service for a beautiful baby born still. The service took place near the water. Seeing the mother and her other children, along with the friends and family all being held in love as they honored their angel's short life was very moving. I've since done quite a few services honoring babies, but that was my first, and one I will never forget.
What's something about you that most people wouldn't know?
I'm a digital marketing nerd! I've worked in digital marketing and content creation for over fifteen years. When I started Rite of Passage Funerals I knew this would come in handy, and it has. Knowing how to tell stories and really capture people's imagination—both in real life and online—is a skill, and one I think people need to believe in it more when it comes to funerals.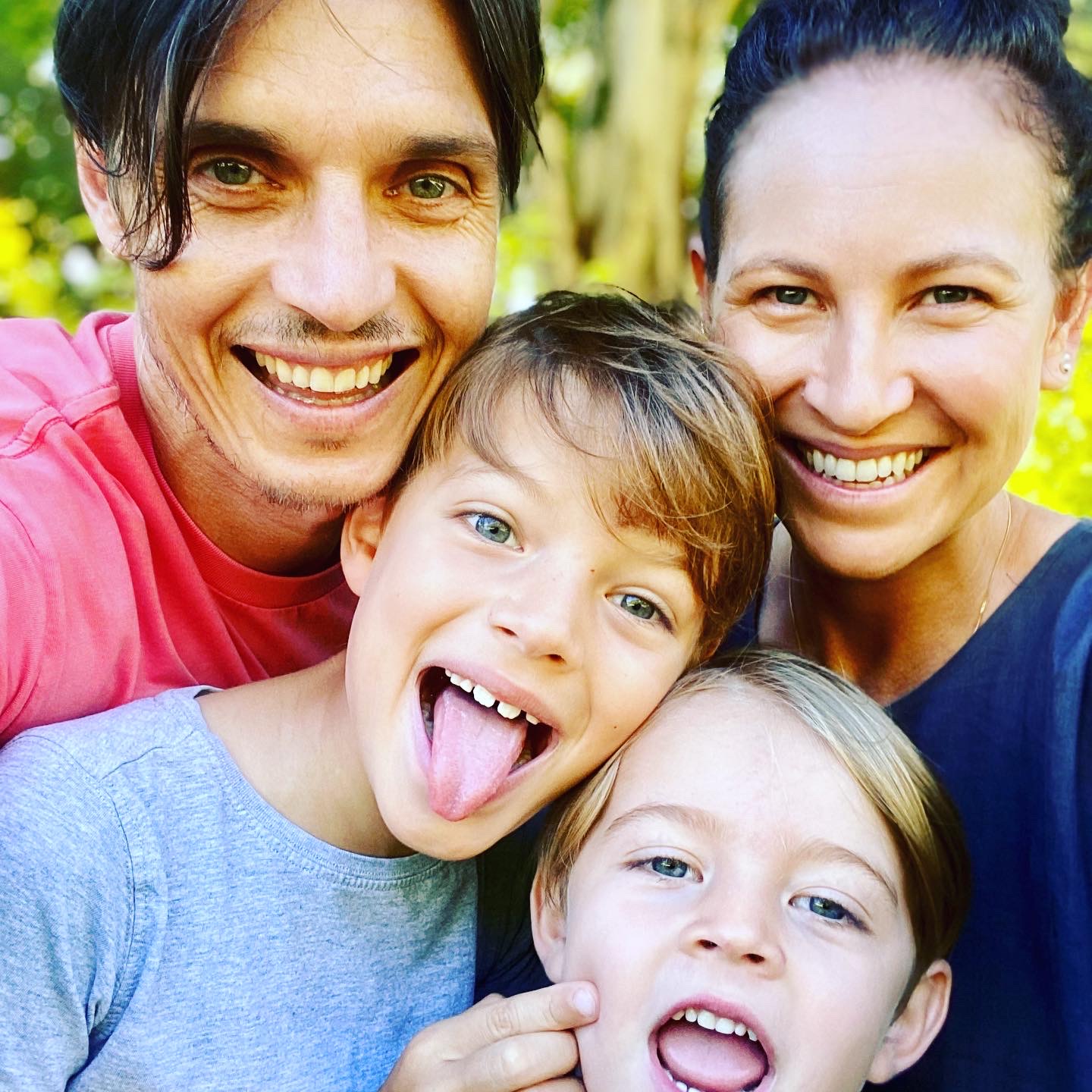 As a business owner and funeral director we know your schedule must be pretty hectic, but when you do get time off, what do you like to do?
I'm a mama to two very active and vibrant boys, so I love nothing more than spending time with them and my hubby down at the beach or with friends. Personal growth is also my jam, so I'm often meditating, learning, growing or figuring out what to do next. I'm always evolving.
You create beautiful celebrations for the families you serve, but if you had to plan for yourself, what would you include in your Farewelling celebration? We call that the "Farewelling Five."
Think boho festival vibes.
An open field, lots of floor cushions, a huge tipi, live music, fairy lights.
A grazing table and endless photos and stories of my life.
I'd like all the guests to wear color and dance the night away in my honor.
I'd love a big circle with everyone who wanted to, to share the funniest moment they had with me, or how I impacted them in some way, or totally messed things up and made a mistake. It's all up for discussion.
I'd want them to laugh, cry, hold each other and remember that I did my very best in my one precious life and that I loved them all deeply. It would be wild and wonderful. The ultimate farewell and a memory they could all keep forever.
Do you have a Farewelling 5? Tell us all about it on social media. We're @myfarewelling. You can learn more about Yasemin's work as a funeral director at Rite of Passage Funerals, or read about her Funeral Celebrant Training course at The Funeral Fix.