We Know. It's Not Anyone's Favorite Topic. But We Think It's Good to Know Your Options.
When we consider all the things that surround a funeral, we of course look to our funeral providers, and rightly so. Funeral pros often have curated a selection of items a family will need, and they put it all together so we don't have to worry about the logistics. But as with everything (groceries, travel, even tele-medecine), the Internet is changing things in the funeral industry, and Titan Caskets is a company that is innovating the way consumers purchase one of the most important elements for a burial.
How Do I Buy A Casket Online?
First off, the folks at Titan have streamlined the process, so you can have a custom casket rapid-shipped in anywhere from one to six days. So if you're dealing with a death right now, you can take a look at their offerings and see how they compare. These are American-made caskets as well, which helps both with timing and price. They also offer free shipping to the lower 48-states, with the goal when possible of shipping the very next day after the order is placed. You can choose where it's shipped--directly to you or to your chosen provider.
Is an Online Casket Cheaper?
It depends on which options you choose, but the Titan collections are designed to be both high quality and value-focused.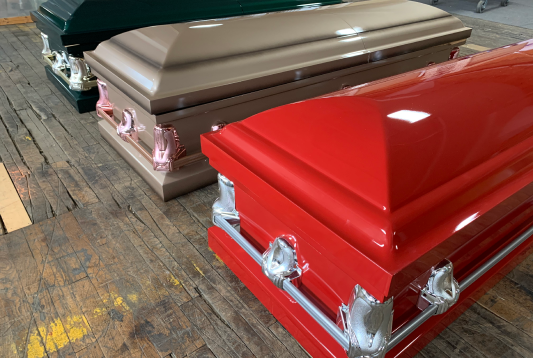 What Kind of Casket Details Can I Choose?
It starts with the actual materials out of which the casket is made. Steel, wood, cloth, etc. If an eco-friendly burial is important to you, you can find options that may suit you. Then you've got color choices for both interior and exterior, and details like hardware and available religious symbols. You can choose a lot of those customizations for a very quick turnaround time, but keep in mind that more personalization=more time. One cool thing is that they provide a concierge to follow your order, keep you updated, and answer any questions you may have along the way. So if you feel their service might be right for you, you'll have lots of support.
If You Had the Chance to Plan What You Want for Your Own Casket, Would You Select the Details in Advance?
Would you care if your family chose steel or wood for your eternal resting place? Is race car red more your style, or something in a polished wood? You might want to think about making a plan. Have a specific vision for what you want? They can work with you.
A big part of choosing your own casket is planning in advance, so they've created a pre-planning program called Titan Care. Choosing what you want in advance can be a really thoughtful gift for your family, as often emotions after a loss can lead to less-than-great decision making.
If you want to check out Titan's pre-planning, it works like this:
1. Go to their website and choose your preferences from their online collections.
2. Schedule a phone call with an expert to discuss your options. They promise not to hard-sell you.
3. Decide which payment plan works for you. You can pay now or in installments for up to 10 years (!)
4. Finalize your contract. When the time comes, you or your family just notify Titan by phone or email. The great news: if you pre-arrange a casket, you or your family can choose to use your funds with Titan Casket--or with any funeral home or supplier.
5. If you are advance planning, don't forget to tell someone about your plan. Fill out your Farewelling File and keep it handy just in case.
Our take: while funeral providers will always be able to offer great choices and take care of logistics in a truly helpful way, companies like Titan are positively disrupting and modernizing the funeral industry by creating new ways to plan a farewelling. Find out all about their pre-planning program, explore their products, or join their newsletter.