There's the Funeral, and Then There's Everything Else. That's Where She Comes In.
A former hospital development specialist, Rachel Donnelly was never too far from the death care space. She understands how complex it can be for families to deal with grief, while at the same time confronting all the paperwork that Legacy & Estate Planning, Digital Asset Organization, and numerous other tasks involve. Her idea? Create a one-stop shop so that families can put all those overwhelming clerical tasks in her expert hands. This way they can focus on healing while she acts as an intermediary and an indispensable helper. Below Rachel talks to us about how her own personal loss inspired to create her company, Black Dress Consultants, and how she applies what she's learned about grief in her own life today.
Tell us a little bit about your background. How did your earlier career path relate to or inspire your current work in the space around helping families wrap up after the loss of a loved one?
Other than the myriad of my own life experiences, my professional experiences have helped me to create Black Dress Consultants. As a professional fundraiser in higher education for 20 years, I've built countless relationships, organized events and helped individuals and families build meaningful philanthropic legacies. My career has taught me to be resourceful, solve complex problems, work collaboratively and manage and allocate funds, particularly in a resource-constrained environment. Dividing and administering an estate can be a daunting task, but with my knowledge of the administrative as well as emotional aspects I can help ease the burden of putting it all together.
What was the motivation behind the creation of Black Dress Consultants?
I can sum it up by quoting the saying, "Necessity is the Mother of Invention." A few years ago my mother went into the hospital for cancer surgery and unfortunately, never came home. Since my father had passed away years earlier, my sister and I were left to bury our mother and take over the caregiving responsibilities of her brother, who had advanced Parkinson's Disease.
These circumstances left me completely overwhelmed, managing end-of-life care, hiring attorneys in multiple states, cleaning out and selling houses in multiple states and tackling mountains of paperwork. I realized there was a true need for professionals who could provide concierge consulting to give guidance, complete tasks and coordinate efforts for individuals and families.
We know you've dealt with a lot of loss in your own personal life. What was the point at which you realized you wanted to work full time on problems and issues relating to wrapping up after a loss?
I remember the day vividly. I was standing in the parking lot of a local branch of my uncle's bank. He had recently passed away. I had spent the last 4 hours trying to open a checking account for his estate and was unsuccessful due to this bank's requirement to open the account in the state in which the person died. I got in my car and a light bulb went off in my head. I realized that I had spent countless hours over the past 7 years managing my families' affairs. This was time away from my job, husband and kids, and it was taking a toll on my life.
I thought to myself, "Why isn't there anyone out there who solves this problem?" Yes, we have the estate attorneys, accountants and financial advisors, but there's not a profession out there that helps with all of the messy in-between work. At some point we will all experience a loss and may either not know what to do or simply do not have the time to take care of it.
In your experience working with families, and considering all the services you offer, what do they need the most help navigating?
Most of the time, families need help closing or renaming accounts, notifying organizations and mailing/submitting forms. I am a notary and can sit with the family to notarize any required forms or documents, which takes one more thing off of their to-do list. When working with families, I create and share a personalized checklist, letting them know when an item has been completed and/or if I need any additional information from them.
We know you're not a lawyer or a financial advisor, but how does what you do differentiate from or overlap with the legal and financial aspects of settling an estate?
My goal is to complement the work being done by other professionals, such as an attorney or financial advisor, providing a continuum of service for the client. I work to enhance rather than duplicate any services already being provided and when appropriate, to ensure that tasks are completed under their advice. And if the client needs an estate attorney, financial advisor, accountant or other professional, I can connect them with someone from my network.
Speaking in general, is most of your work guided by a legal team or the family's financial advisors, or is it more the personal aspect of helping them directly, being in the home, etc.? Tell us about how your clients find you and what your role is in the complex project of settling an estate and wrapping up the details.
Regardless of whether I'm providing end-of-life and after-loss consulting services, my goal is to meet the client where they are.
My concierge consulting approach allows me to customize a plan based on whether this is before or after loss, what physical property is involved, if the estate is going through the formal probate process and who is involved from a professional and personal perspective, etc.
I can provide virtual and in-person consulting, keeping the client informed every step of the way. All of my clients have come directly from referrals, whether that is from my network of seasoned professionals, friends or other death care colleagues.
What's one of the most unique or memorable experiences you've had working with families after a loss?
I was once overseeing the clean out of a house after the family had come in and taken everything they wanted to keep. The junk removal company was taking whatever was leftover and throwing it away. The workers were about to grab three boxes that were left in a cabinet, when I noticed they were marked "human cremated remains." Unbeknownst to the family, the cremated remains of three of their family members had been left behind. Thankfully, I was able to save them from being thrown away and mail them to the family in another state.
Is there someone else in the industry (or even outside the industry) who inspires you to do the difficult work you do? If so, why?
I was recently named to the Board of Directors of the non-profit organization, Love Not Lost, which was founded by Ashley Jones. After losing her daughter, Skylar, to a terminal illness and realizing how helpful photos can be in the healing, Ashley created an organization which gives families facing a terminal diagnosis a free portrait session experience and a beautiful photo album to support them in their journey.
Even though I was initially inspired by my own experiences to do the work I do, Ashley's strength, passion and vision has helped realign and motivate me to go farther.
If someone is looking for help after a loved one dies, are there great books or resources you'd recommend?
In terms of books, When Bad Things Happen to Good People by Harold S. Kushner is an oldie but a goodie. As far as resources, I've curated a great list of resources on my website which I hope will be helpful!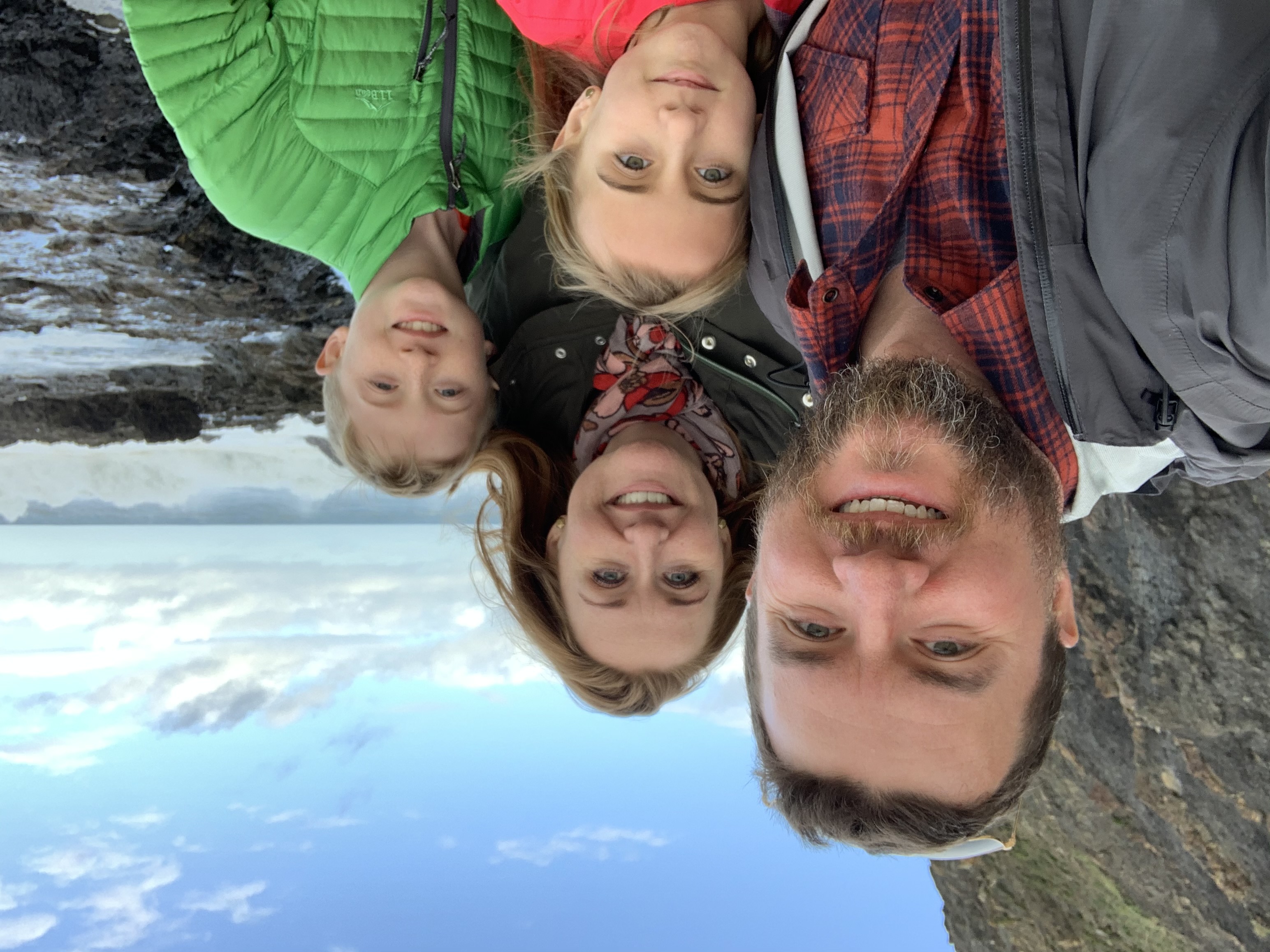 Given that you help others organize sometimes highly complex details in the middle of a very difficult experience, how do you apply your professional skills at home? Are you a total control freak when it comes to your daily life at home? Do you yourself have an organized end-of-life plan?
My mother nicknamed me "The Little Red Hen" and my husband refers to me as the family cruise director. I've always enjoyed taking charge and am not afraid of jumping into a difficult situation.
I am a recovering control freak, however, my life experiences and work in this space has encouraged me to not take life too seriously. If there's anything that I've learned, it is that life happens while you're making plans and you can make it or break it based on your ability to recalibrate.
My husband and I have recently revised our entire estate plan with the hope that our children and/or beneficiaries will be able to avoid the formal probate process. I am practicing what I preach and am organizing accounts with usernames and passwords, and uploading important paperwork and documents into an online digital vault. Sharing (passwords) is caring!
Since you constantly deal with people's estates after their death, what do you think about Swedish Death Cleaning?
I absolutely love this book and wish more people would adopt this methodology when they're entering the 3rd or 4th quarter of their life. There's a quote I use often when giving presentations and webinars: "Do not ever imagine that anyone will wish—or be able—to schedule time off to take care of what you didn't bother to take care of yourself. No matter how much they love you, don't leave this burden to them."
What Is Swedish Death Cleaning?
How much do you deal with your clients' digital legacy? Is there a legacy company in particular doing great work that you'd like us to know about? If you do help clients with wrapping up digital and social media accounts, how many accounts are you generally dealing with for one person?
In my opinion, this is one of the biggest blind spots in estate planning and is one that I help address with our comprehensive end-of-life consulting. Our documents, important papers and account statements are no longer in filing cabinets but rather live online, in our phones, on laptops or other physical devices. Having a plan to ensure that someone knows the unlock code to your phone or password to access your computer and email is paramount.
After a loss, I work with families to create a complete list of their loved one's online accounts and then start closing them one by one. Although it's been reported that the average internet user has 207 online accounts, I usually handle between 15-25 of those accounts for clients.
What's something about you that most people wouldn't know? Could be a secret talent, passion, skill or a story that resonates with you.
Somedays I joke that my life should be subtitled "Death Becomes Her." As a small-town doctor's daughter, I am accustomed to being around those at the end of their life since I spent a lot of time in my father's office and accompanying him when he made house calls or rounds at the hospital.
When I worked in development and alumni relations at Emory University School of Medicine, I often gave tours of the newly built cadaver and fresh tissue lab to alumni and donors. Furthermore, my office phone number was one digit off from the Body Donor Program, which consequently forced me to know more than the average person about donating a body to medical science. 
Is there anything else you want to share that we might not have thought to ask?
I can provide virtual 1:1 concierge consulting to clients anywhere in the country. I currently have clients in New York, Florida, California as well as in Georgia.
You help the families you serve with some of the most difficult aspects of wrapping up after a death. If you had to plan for yourself, what would you include in your Farewelling celebration? You know, the 5 things that are most important to you? We call that the "Farewelling 5."
To be cremated with some of my ashes spread in Montana and the rest placed in one of Oaktree Memorials' beautiful urns or pieces of memorial jewelry
The poem "Crossing the Bar" by Alfred Lord Tennyson to be recited as it's tradition in our family
A memorial gathering that begins a few hours after my death, complete with:
Good food, wine, lots of chocolate
And of course awesome music, with the final song being Whitesnake's, "Here I Go Again"
Follow Rachel on Instagram to learn more about what she does, and ask her a question—she loves to connect!